Boutique breweries fermenting in South Australia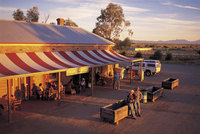 Boutique breweries are catching up with vineyards as the 'must-do' food and drink experience in South Australia.
Over the past few years there has been an explosion in boutique breweries throwing open their doors to the public to entice them in to sample bespoke beers and creative canapes.
The Australian wine industry is one of the country's greatest assets in terms of domestic and international export and popularity however the boutique beer business is hot on its heels.
Adventure tour specialist Off Piste 4WD Tours decided a beer adventure through the Fleurieu Peninsula's hailed breweries was long overdue. Enjoy the Craft Beer Adventure Tour behind the scenes offering a rustic, home-grown insight into this intriguing region that makes great beer. The Fleurieu Peninsula boasts four 'must see' breweries and two fantastic beer tasting locations making it the perfect occasion for everyone to experience beer and adventure all in one day out. The tour includes an incredible late lunch of spare ribs, cider and lime roasted pork belly, goat shoulder and other incredible beer-friendly dishes.
The Prancing Pony Brewery, based in Mount Barker in the Adelaide Hills, is a boutique craft brewery and has the claim to fame: 'We Fire Brew'. Here they believe great beer should be brewed over an open flame (not via steam jacket used by 95% of commercial breweries). The old traditional method of fire brewing reveals an array of complex caramel and toffee like flavours resulting in a beer with a distinct malt profile. Visitors to the Brewshed can sample and buy the full range of beers, including Blonde Ale, Amber Ale, Pale Ale and Black Ale. With a licensed Cellar Door, groups of up to 25 can book a tour with the head brewer to learn about beer-making, flavours and beer history. For smaller groups a private room is available.
Situated in the heart of the Barossa, Barossa Valley Brewing is a small craft brewery producing award winning ales. Award-winning ales include: Bee Sting, Organic Ale, Blonde, Saison, Canis Majoris and Imperial Milk Stout ales. Enjoy a tour of our brewery and hear how we produce these fine ales in the Brew House every weekend then kick back and relax in the beer garden.
Goodieson Brewery is owned and operated by Jeff Goodieson – Master Brewer with years of brewing and technical experience – and his wife Mary. The brewery is rustic and informal, and visitors are welcome to walk amongst the brewing vessels and chat to Jeff and his team. The current range includes a Pale Ale, a Pilsner, and a Wheat beer.
Knappstein Winery in the Clare Valley, South Australia, is one of the most recognisable and popular Clare Valley wineries – but it's branching out into beer with its own micro-brewery! It is located in the original nineteenth century Enterprise Brewery, a National Trust building and the landmark of the Clare township. The cellar door is open seven days a week.
McLaren Vale Beer Co is just six years old and was started by one craft beer pioneer brewing one beer, the Vale/Ale. Now the team is more than 20 strong and they brew a Gold Medal-winning portfolio of core craft beers, whilst also quietly releasing one-off batches from time-to-time. They're very proud of their brand new Brewery, located in the historic town of Willunga.
The Wheatsheaf Hotel is THE pub to go to in Adelaide for seriously good craft beer. Serving Australian and imported craft beer it prides itself on serving "real" beer – "no skinny lagers or low-carb blands, instead we recumbent real beer and regular exercise".
Swell Beer was launched by Dan Wright, who has been in search of the perfect wave since he first waxed a surfboard. He's also been in search of the perfect beer. His brother agreed. While trekking the world on a two year surf and snowboard odyssey, an idea brewed… resulting in the launch of Swell Brewing Co. First launched in a shed at Dan's vineyard, the brewery now makes four ales. Coming to brewing from a wine background, Dan wanted beers to represent new layers of flavour and texture, and to be a first choice for matching with food. An aim he's definitely achieved.
Ekhidna Wines is another great example of a vineyard realising the potential in craft beer and branching out. This cellar door only offers tastings of excellent handcrafted wines but adds tastings of sensational handmade beers including his unique highly sought after Ekhidna Ginger Beer.
Pikes Oakbank Beer has a phenomenal 120 year history, but was relaunched in 1996 after a complete brewing production and packaging evolution. The result is a new range which includes the flagship Pilsener Lager, the Genuine Stout, a new Sparkling Ale and a seasonal brew which will change from season to season depending on weather and consumer preferences.
The Prairie Hotel, a family owned and run hotel, and licensed since 1876, it is a jewel of the region, a perfect base for exploring the Flinders and Outback, and acknowledged as one of the Hip Hotels of the World. Fantastic deluxe 'heritage' rooms and a range of cabins offer the perfect place to relax with the Hotel's own Fargher Larger.
Overlooking the redesigned Adelaide Oval, The Curious Squire is Adelaide's new craft beer bar and dining hotspot in North Adelaide. A great range of beers, snacks and a great-value happy hour.
Grumpy's Brewhaus is the first all-grain boutique micro-brewery in the Adelaide Hills, changing the beers on tap to suit the season, including Stout, Porter, Bitters and European Lagers.?Grumpy's is also famous for its wood oven pizza, a perfect marriage with the beers sold.
The Barossa Brewing Company produces small batches of pure, traditionally fermented beers, hand-crafted using the German Beer Purity Law of 1516 as their model whilst drawing inspiration from the Barossa.
Wilkadene Craft Brewery is located in the old woolshed of a century old homestead on the banks of the Murray River. It is the only brewery in Australia where you can 'drop anchor' and step inside for a craft beer like Amazon Ale, Judas the Dark and Summer Ale.
But it's not just the cool young things who deserve a mention… Cooper's located just outside Adelaide's city centre, is Australia's only remaining large family owned brewery and a tour of the extensive plant can be undertaken, alongside beer and ale tasting.
For more information, visit uk.southaustralia.com.