Discover Yukon's Silver Trail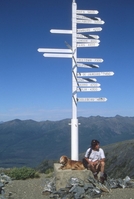 Situated in the upper Northwest corner of Canada, next to Alaska, the Yukon is Canada's most accessible northern destination, and with scenic drives into all corners, it's a driver's dream. The territory boasts a network of highways that rank among the world's premier driving adventures including the legendary Alaska, Top of the World, Klondike and Dempster highways. Yukon also has an exhilarating combination of postcard scenery, heritage sites and cultural attractions and just beyond the dashboard are inviting towns, campgrounds and countless adventures.
This is a land of friendly characters, midnight sun and breathtaking scenery. In fact, the Yukon is one of North America's major wilderness attractions; close to 80 percent remains pristine wilderness with 5,000-metre peaks, forested valleys, unspoiled waters and untamed wildlife. Roughly the size of France, the Yukon is home to more than 160,000 caribou, 70,000 moose, 22,000 mountain sheep, 7,000 grizzly bears, 10,000 black bears and 250 species of birds… and only 34,000 humans!
Visitors will love the Yukon pace of life and the chance to slow down and explore roads less travelled such as the Silver Trail Drive. Journey north from Whitehorse on the Klondike Highway to Stewart Crossing, then east on Highway #11, the winding Silver Trail, to the historic frontier mining towns of Mayo and Keno. The road passes through moose habitat and offers scenic views of the Stewart River. A major tributary of the Yukon River, the Stewart lured prospectors to the area in the 1880s, which led to major mineral discoveries.
Hiking and biking trails abound on the Silver Trail, often passing by old cabins and great fishing holes. Take the time to explore Keno, where the northern mining experience is still fresh, creating an authenticity that you won't soon forget. Enjoy historic sites, wildlife viewing, hiking in the Wernecke Mountains, Keno and Mayo walking tours, gold panning, fishing and wilderness river trips in the backcountry.
Don't forget that in the Yukon, under the Midnight Sun of summer, the lights are on almost 24 hours a day so there are things to do and see long after you've run out of the strength to do them!
Bon Voyage offer a 14-day 'The Silver Trail - Summer In Yukon' fly-drive tour that operates from May through August. Highlights include:
Tour the heartland of Canada's Yukon
Silver Trail Highway to Mayo and Keno
Explore the Klondike, relive the stampede days in Dawson City
Top of The World Highway
Kluane National Park
Alaska's fishing community of Haines
Historic gold rush city of Skagway
Ferry through the scenic Lynn Canal from Haines to Skagway
For more information, visit bon-voyage.co.uk.