Avoid that sinking feeling with a turf test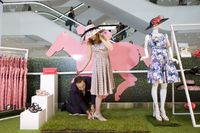 Debenhams has created its own mini-paddock so race-goers can see how different styles of heel cope on real grass.
At a demonstration with a model at the store it will come as no surprise to regular heel wearers that slim stilettos sank furthest into the turf, kitten heels also performed poorly on grass, but the latest trendy block-heeled sandals performed well. However the winner by several lengths was the wedge. Go as high as you dare and still the wedge will keep your foot above grass level right to the final furlong of a day at the races.
Currently a favourite style with the Duchess of Cambridge, the versatile wedge comes into its own to watch a favourite trot around the Parade Ring, especially if the going is soft.
Cassandra Robinson-Brown, PR manager for accessories at Debenhams, said: "For many people Royal Ascot is the height of not just the racing calendar, but the fashion calendar too. The strict dress code is almost as famous as the race meeting and it is a great opportunity for people to really dress-up with fabulous hats, gloves and of course the perfect pair of shoes.
"However, we know many of our customers struggle when picking shoes to go with their chosen outfit. Often they don't feel an outfit is complete without high heels, but there is a lot of grass at Ascot, as well as many other summer events, such as weddings and garden parties. The Debenhams Turf-Test is ideal to check out exactly how different heels feel when walking on grass, before you buy."
After-all there is nothing fashionable about being stuck in the mud because of your new high heels that sink at every step while you struggle to stay upright. Thankfully we have some very pretty solutions to the great grass-dilemma with a heel and shoe-style to suit every budget."
Turf for heel- testing potential shoe purchases will be available for a limited time at Debenhams Oxford Street store from Tuesday 3rd June. The results of the turf-testing on different heel heights and shoe styles can be seen on Debenhams Facebook page.
The Turf-Test will also be available at other regional Debenhams stores, ahead of key race dates – including York and Leeds for the Yorkshire Ebor Festival and Doncaster for the St.Leger Festival.
As well as the shoe-testing-turf, Debenhams has a huge selection of designer dresses, hats and fascinators, suitable for all occasions and budgets, from its Designers at Debenhams range including creations from Julian Macdonald, Matthew Williamson and Ben de Lisi.
Men can also find suit collections for most formal events from Jeff Banks and Hammond & Co, the new range from Patrick Grant of The Great British Sewing Bee. There is also a formal hire service available for weddings.
Anyone in need of race-day style inspiration, or expert tips on what outfit will flatter their figure, can book a free Personal Shopper appointment in store or online at Debenhams.com.