'How to' lessons from celeb make-up artist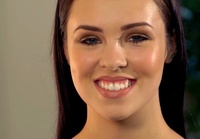 To celebrate the launch of the new Starbucks Discoveries Skinny Cappuccino, Starbucks has partnered with celebrity make-up artist Justine Jenkins to create make-up looks inspired by the latest addition to the Starbucks Discoveries range. Justine has created a "Smoky Eye" look for night and a "Cappuccino' look for daytime.
Justine has over 15 years' experience as a make-up artist and a huge number of celebrity fans including BBC Radio One's Fearne Cotton, Made in Chelsea's Millie Mackintosh, and MTV's Laura Whitmore. She is also a cruelty-free cosmetic ambassador. Justine has created two "how to videos" that show you how to get the "Smoky Eyes" or "Cappuccino" look at home in just four minutes using Justine's tricks of the trade.
Justine says, "The Starbucks Discoveries Skinny Cappuccino themed looks are great for taking you from day to night. The "Cappuccino" is perfect for before work, when you want quick and easy nude make-up look and the "Smoky Eye" is perfect for when you are running out of the office to meet some friends and need to smarten up. The colours I chose are inspired by the deep chocolate browns, milky swirls and the frothy textures in the chilled skinny cappuccino. My make-up tips in the videos are designed help you look revitalised and refreshed and perfect for creating on the go or when you only have a few minutes".
Justine's Starbucks Discoveries inspired looks are called "The Cappuccino" and the "Smoky Eye";
1. The Cappuccino
A beautifully natural quick and easy look for anyone on the go. Using creamy textured 'multi-use' products that can be applied to: eyes, lips and cheeks, complimented by a palate of cappuccino and peach-browns. A real 'suits all ages look'.
2. Smokey Eye
A deliciously sultry smoky eye created with an array of Arabica inspired shimmering coffee tones. This look proves that blending is easy and all women can create the classic smoky eye with confidence.
The Starbucks Discoveries Skinny Cappuccino, is designed to be enjoyed on the go or when you need a mid-afternoon pick me up or are looking for a convenient summer picnic treat. Starbucks Discoveries Skinny Cappuccino is made with the same Fairtrade certified, 100% Arabica espresso roast coffee used in Starbucks, combined with low fat milk and reduced sugar to deliver a delicious and uplifting chilled coffee. It is available in supermarkets and convenience stores across the UK.