Survey reveals Spain as the UK's most popular overseas retirement destination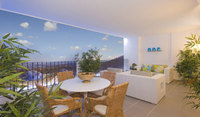 New research has revealed that more than 6 million UK adults are planning to head overseas when they retire, with Spain's sunny shores emerging as their destination of choice. The poll from MGM Advantage identified some 3.2 million adults looking to leave the UK in order to retire to European destinations, with Spain garnering 26% of the vote and topping the list of preferred destinations.
Spain has long been popular with Brits looking to pick up a holiday home in the sunshine and for many families the property also acts as the bolt hole to which they plan to retire. The gentle climate, delicious cuisine and stunning coastal scenery of Spain have proven a consistent draw to UK holidaymakers and those in their golden years.
Andalucia, in particular, attracts tourists and retirees in their droves. The southern Spanish region, which is home to the perennially popular Costa del Sol, attracted some 7.9 million international visitors during 2013, up 4% on the previous year, according to Anadalucia.com. The site reports that 26% visited for the climate, 17% for cultural reasons and 15% for the beach.
Taylor Wimpey Espana, the Spanish arm of prestigious UK homebuilder Taylor Wimpey, is extremely familiar with the British fondness for the Iberian country. Marc Pritchard, Sales and Marketing Director for the firm, comments,
"Our buyers are looking for high spec properties in Spain's most popular areas. The relaxed pace of life in Spain, together with the weather and the wonderful culture, combine to create the perfect destination.
"For many of our buyers, retirement to Spain is the ultimate goal when purchasing their property. They want to use it for holidays with family and friends while they are still working, then move into it permanently to enjoy their golden years."
Such buyers have a clear vision in mind of the property they want, which has helped to shape Taylor Wimpey Espana's offerings over the years. Developments consist of Mediterranean style buildings that blend delightfully with their surroundings in areas of outstanding natural beauty.
La Floresta Sur in Elvira, Marbella, is the perfect example. The exclusive development offers two and three bedroom apartments as well as penthouses from just €178,000. The apartments benefit from both sea and mountain views in a UNESCO natural biosphere reserve and are surrounded by the region's lush and peaceful pine forest. They are located close to Elvira's stunning beach, while the resort also offers two communal pools. Large gardens and terraces make them ideal for outdoor entertainment and enjoyment of the wonderful Spanish climate.
As the UK remains Spain's largest inbound tourism market, with UK visitors accounting for 27.6% of total arrivals during May 2014 based on Ministry of Industry, Energy & Tourism data, demand for second homes there remains strong. Key-ready properties are extremely popular, such as the delightfully appointed apartments at Brisas de Alenda Golf in Elche, on the Costa Blanca. The private complex comprises beautiful three bedroom townhouses that are perfectly located for those looking to hone their golfing skills during their holidays and on into their retirement. Priced from only €145,000 for the split level houses with private gardens, and just 15 minutes from the beach, the development is understandably popular with British buyers.
As the cost of retirement in the UK seems to rise inexorably, with a 2013 study by retirement specialist LV showing that Brits need some £225,756 in their pension pot to enjoy a typical 17 year retirement fully, it is clear to see why the lower cost of living in Spain, as well as the country's countless other charms, is leading to so many UK adults planning their retirement overseas.
For more information, visit taylorwimpeyspain.com.