Stylish shoppers go bananas for pyjamas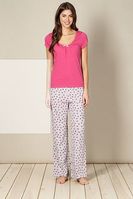 Retailer Debenhams has seen a marked increase in sleepwear sales of late as shoppers have been wearing their jammies away from the comfort of their own bedrooms.
Once labelled as frumpy by fashionistas – pyjamas have proven to be the fashion hit of the summer and Debenhams has seen an increase of 34%, as shoppers have opted for a new way to look chic in the heat.
Lizzie Singleton, Spokesperson for Debenhams says; "Once reserved solely for the bedroom – pyjamas, now commonly referred to as 'loungewear' have made the transition into daywear.
"Whether it be a full set or seperates mixed in with daywear – the Summer of 2014 will be remembered as the year of 'Sleepwear and the City'.
"Savvy shoppers have also been opting for our light kimonos as the cool way to cover-up, with many favouring our robes to achieve the look and printed styles proving most popular."
The trend was first seen across the catwalks of Stella McCartney, Chanel and Dries Van Noten and is now appearing on a high street near you.
Celebrity fans of the 'PJ' trend include; Rita Ora, Rihanna, Millie Macintosh, Kate Moss, Fearne Cotton, Russell Brand, Marc Jacobs and Collin Farrel to name a few.
Lizzie Singleton continues; "Our designer sleepwear has seen the biggest sales increase with colourful floral prints proving most popular – as nightwear becomes more trend lead, many shoppers see it as a shame to resign it solely to the bedroom.
"Shoppers are particularly keen on our lightweight breathable fabrics which have made the trend a comfortable way to cope with the recent heat wave.
"We are already expecting the trend to continue way into the Christmas party season and have a number of styles that we predict to be popular."
Debenhams Personal Shoppers have been inundated with requests on the best way to pull off the trend.Alain Mehada, Head Personal Stylist of Debenhams Oxford Street's flagship store offers the following tips to pulling off the sleepwear trend in style:
Mix bottoms with a tailored jacket to add definition to your silhouette.
Stick to silky/cotton fabrics and steer clear of flannel.
Opt for printed styles and avoid sheer fabrics or lace.
Debenhams sleepwear is available in all stores nationwide and online at Debenhams.com, prices start from £6.50.
The Debenhams Personal Shopping service is available in selected stores nationwide, book an appointment online at Debenhams.com.