Brit holiday hopes left in the dust down under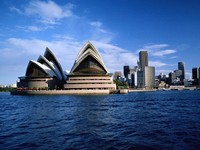 Brits dreaming of their number one holiday spot have named Australia as the top place they'd like to visit. Sun, sea and the laid back Aussie lifestyle has seen one in two dreaming of a well earned break in the land Down Under.
However, the research of 2000 Brits conducted by my Travel Cash Prepaid MasterCard, has also revealed that a staggering 90 per cent of Brits don't think they'll ever make their dream holiday a reality.
Three quarters of those surveyed revealed that their dream destination was just too expensive to afford, while a further 18 per cent admitted that they couldn't get enough time off work to go.
Dreaming of travelling far and wide, Brits also set their hearts on New Zealand (47%), Canada (42%) and The Maldives (31%) as other top destinations.
Myles Stephenson, CEO of my Travel Cash, said: "From the research we wanted to get a real insight into where people dream of travelling to. We discovered that nine out of 10 people don't think they'll ever make their dream trip, with time off and cost being the most prohibiting factors.
"Contrary to popular belief, that dream destination may be more achievable than people think. Pound Sterling is currently experiencing a five[1] year high against currencies including the US Dollar, Australian Dollar and Canadian Dollar meaning holiday money can stretch a lot further than people might think."
Holiday envy was also revealed as a top trend, as one in two Brits admitted to feeling jealous of friends and family visiting their dream destination instead of them.
One third admitted to coming close to booking their dream destination, while over a quarter revealed that this had happened a number of times.
In stark contrast, Brits also revealed that they would sacrifice their fantasy to enjoy a holiday closer to home with family and friends creating treasured memories (62%).
The top 10 destinations were:
Australia
New Zealand
Canada
The Maldives
China
USA
Mauritius
Iceland
Brazil
Peru
For more information, visit mytravelcash.com.