Building a better future - Spanish construction sector is fastest growing in Europe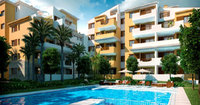 Spain has had enough of economic doom and gloom. The sun-kissed Iberian country has put its economic troubles behind it and is now leading Europe in the race to build a better and brighter future.
Figures from EU statistics office Eurostat have shown that the Spanish construction sector has registered a massive year on year increase of 42.4% for May 2014 – the highest percentage of any country in Europe and well above the European Union's registered increase of just 3.2%.
The construction boom is set against a backdrop of strong performance from Spain's housing market, with data from the General Council of Notaries showing a 16.3% increase in home sales in June 2014 compared with the same month a year earlier. Apartment sales have grown by a healthy 11.6%, while family home sales have shot up by 37.9%, according to Diario Sur.
Much of the activity has been focused on Spain's delightful Costa Blanca area. Leading Spanish homebuilder Taylor Wimpey Espana has found that British and Russian buyers, along with domestic purchasers, are leading the market's revival. Marc Pritchard, the company's Sales and Marketing Director, comments,
"Real estate transactions by British buyers have increased more than 20% according to the British Embassy in Spain and certainly here at Taylor Wimpey Espana we've noticed an upsurge in purchasers from the UK. We've also had a high level of interest from Russian buyers, with Spain's golden visa capturing the attention of many wealthier individuals from outside of the EU.
"The market right now is being buoyed up by second home buyers who want a holiday home in the sunshine that they can one day retire to. It's not about investment and flipping properties any more – it's a lifestyle market nowadays."
La Recoleta III is a prime example of the high quality properties that are driving the residential construction boom. Just a few metres from the soft white sands and sparkling sea of Punta Prima, Torrevieja (Alicante), the stunning two and three bedroom apartments offer lifestyle buyers everything they could wish for, with prices from just €142,000. Private terraces enjoy beautiful sea and pool views and the apartments themselves are delightfully high spec; the penthouses even include solariums.
Mallorca is another area where the Spanish property market revival can be felt, with Taylor Wimpey Espana very much leading the construction sector. The homebuilder's key-ready Cala Magrana III resort is a new residential complex just 600 m from Cala Anguila beach. Two bedroom apartments start at €230,000.
Its privileged position affords extraordinary sea views over this natural paradise, while the local area offers the chance to sample the wonderful local cuisine and explore the famous caves of Drach. A wide range of water sports and various golf courses ensure that there is something for everyone, while those who prefer a less active holiday or retirement can simply relax by the pool, enjoying the tranquillity of the property under the hot Spanish sun.
For more information, visit taylorwimpeyspain.com.