Events to shed light on making a smooth move in Flintshire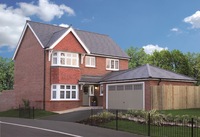 Flintshire buyers and home owners are being invited to two special events to find out how they can make a speedy move to a brand new home.
At Redrow's Heritage Park in Penymydydd, an 'open house' event is being held over the weekend of September 20 / 21 so would-be owners can appreciate the space, layout and quality finish of the homes that are all ready to move into.
And at nearby Gladstone Leigh in Hawarden, buyers are being invited in over the same weekend to discover more about Mastermove, the award-winning housebuilder's scheme that can help homeowners sell up and move on quickly, without fuss or expensive estate agent fees.
"With a wide range of homes available across both Flintshire ventures, we wanted to make sure that buyers were able to get all the information they need and see some of the homes that are available now," Elaine Mounsey, area sales manager for Redrow (NW), explained.
"Buying a finished family home can really speed up the process and Mastermove is ideal for removing the stresses of moving. Flintshire buyers could be in their new home as soon as this autumn if they choose one of those options."
At Heritage Park, along with the fully-furnished 'Balmoral' and 'Henley' showhomes, the four-bedroom 'Sunningdale' will be opened up for viewing so buyers can get an even more comprehensive feel of what each housetype can offer a modern family.
Whereas at Gladstone Leigh, visitors can learn more about Mastermove which enables customers to have their property valued and, once a selling price is agreed, Redrow instructs a local estate agent and online agent to market the property on their behalf.
Crucially, the housebuilder keeps in regular contact with all parties to ensure the sales process runs quickly and they will even pay the estate agent's fees at the end of the day. All it takes is a small deposit of £50, which will be refunded upon completion.
Across both ventures, there are a range of four-bedroom detached homes available with prices starting from £264,995.
The events will be at Gladstone Leigh in Hawarden and Heritage Park in Penymynydd on the weekend of September 20 / 21 and will run from 12pm – 4pm.
For more information
Gladstone Leigh, Hawarden: redrow.co.uk/gladstone
Heritage Park, Penymydydd: redrow.co.uk/heritagepark