New, immersive, live music experience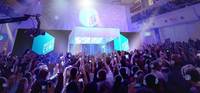 Westfield is excited to announce the launch of MUSIC CUBE - a brand new music initiative set to revolutionise the way consumers experience live music, exclusively at Westfield London (24 – 26 October) and Westfield Stratford City (31 Oct – 2 Nov).
Offering talent and fans the chance to interact with each other like never before, artists and bands will perform live in a bespoke sound proof glass cube, complete with LED surround, to music fans who will be plugged in to listen courtesy of state-of-the-art Sennheiser URBANITE headphones, specially designed for great sound, deep bass, and urban style on the go.
Audiences will discover music both physically and virtually via a sensory vibrating floor system enabling the bass to be felt for a fully immersive event experience.
A schedule of breakthrough, emerging and incredible A-List talent from Westfield's entertainment platform, Westfield Presents, as well as independent and major music labels will perform across the two weekends.
For those who aren't lucky enough to get a free front row VIP ticket, each of the six, daily live music sessions will also be streamed online through Westfield and KISS FM's channels.
Visitors to each centre will also be able to stream live to their mobile and tablet devices through Westfield's free Wi-Fi – allowing access to exclusive backstage content, artist interviews and live Twitter Q&A.
MNEK Already Confirmed for MUSIC CUBE
Grammy-nominated British singer-songwriter and record producer MNEK is the first act to be announced for Westfield's MUSIC CUBE.
His recent hit with Gorgon City, Ready For Your Love, became a Top 5 Single and he has written and produced number 1 hits for Little Mix, Duke Demont and Oliver Heldens featuring Becky Hill.
Bound to entertain the crowds, MNEK will perform at MUSIC CUBE on Saturday 25 October at 3pm at Westfield London. Tickets will be available from Monday 6 October at uk.westfield.com.