Autumn's natural fashion show gives 'wow' factor to Ontario, Canada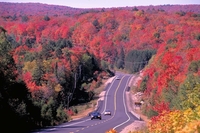 For a real 'wow' factor this autumn there is no better place to be than Ontario, Canada during its annual Fall Foliage.
From mid-September to mid-October, Ontario is a mass of crimson and gold that has to be truly seen to be believed, making it ideal for leaf peeping tours, hiking, bird watching and an abundance of outdoor adventures.
There are so many scenic places to soak in the spectacle of nature's fall fashion show you will be spoilt for choice whether on foot, boat, car or train.
Fall in the Capital - Ottawa
The park lands and outdoor spaces of Canada's capital city Ottawa combine an urban feel with outdoor beauty. Peak season for fall foliage tends to be toward the end of September. You can see Ottawa in its full glory while riding along its many bike trails or while cruising, canoeing or kayaking along the famous Rideau Canal, a UNESCO World Heritage Site. ottawatourism.ca
Haliburton Highlands
Visit the Haliburton Highlands about 2.5 hours north of Toronto where you will be greeted by a canopy of scarlet and gold as far as the eye can see. While there, don't miss the Haliburton Forest and Wildlife Centre for its canopy walk. The walk is an experience you will never forget. A professional guide leads you through a unique and dynamic tour from river basin to tree top. From the safety of a harness you are able to get up close and personal with the fall foliage as you walk across footbridges 10 to 20 metres above the forest floor. haliburtonforest.com
Algonquin Provincial Park
Just for sheer scope, Algonquin in the fall should be on everybody's tick list of places to visit. The expanse of colour across the park's vast tree covered 7,725 square kilometres (3000 square miles) is a sight to behold. The park, three hours north from Toronto and three and half hours west of Ottawa is Ontario's most popular outdoor playground with canoeing, camping and hiking on offer. The fall colours are at their peak in the last week of September. algonquinpark.on.ca. Whilst in the Algonquin Highlands area, you are also able to climb the Dorset Lookout Tower for a panoramic view of Algonquin's blaze of colour.
The 1000 Islands and the 30,000 islands
Enjoy a really unique way of seeing the fall glory with an islands cruise. Cruise from Kingston, Rockport or Gananoque in Eastern Ontario for a visual spectacle along the banks of the St. Lawrence River. There are a host of cruises available including lunch and dinner cruises too. For another vantage point, climb the 1000 Islands Skydeck Tower on Hill Island and take in the islands from 400 feet up!
Another option is to cruise the spectacular 30,000 islands region of Georgian Bay, a breathtaking way to see the fall colours. Cruises are available in Midland, Penetanguishine and Parry sound and are a fantastic way to discover the natural beauty of this remote region.
Muskoka
The Muskoka region, two and a half hours north of Toronto, is breathtaking in all seasons, but fall is when this tranquil region really shines. The area is a true holiday region dotted with a staggering 1,600 lakes. The area has a rich cruising history. Stop off at Gravenhurst, the gateway to Muskoka, and take a cruise on the historic RMS Segwun, North America's oldest operating steamship. While cruising on Lake Muskoka you will get fabulous fall colour views and you can dream about owning one of the many cottages dotted on the shoreline. You can also enjoy a tranquil lunch cruise or visit neighbouring lakeside resorts for dinner. Then travel on to Port Carling, Bracebridge and Bala. The latter is the home of the Bala Cranberry Festival (Oct 17-19, 2014) celebrating everything to do with this much loved berry including marsh tours, local arts and crafts and a street festival! balacranberryfestival.on.ca
Algoma Country
Hop onboard the Agawa Canyon Tour Train and experience Northern Ontario's Algoma Country from a different perspective. The train's large picture windows allow for great views and photos as it makes its way over towering trestles, alongside pristine northern lakes and rivers, and through the awesome granite rock formations and mixed forests of the Canadian Shield. This day trip into the beautiful Algoma region travels 114 miles north of Sault Ste. Marie, to the bottom of the AgawaCanyon where visitors disembark and have time for a picnic lunch or maybe some hiking before returning to Sault Ste. Marie in the afternoon.