Spanish property on the up as penthouses command 30% price premiums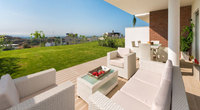 Spain's property market is on the up, as a flood of foreign investors are snapping up bargain properties following years of tumbling prices. Provisional July figures from the National Statistics Institute have indicated that home sales increased by 10.7% compared with the same month in 2013, with 28,583 transactions in total.
The July figures mark the fifth successive month of rises, with homes sales increasing by 22% in March, 5% in April, 5.4% in May and 8.8% in June. The second hand sales market is doing well, while the homebuilding market has also experienced an uplift, with popular tourist areas issuing an increasing number of licences for new homes. In Torrevieja, on the Costa Blanca, for example, the local planning department dealt with 451 licences in H1 2014 – an increase of 339% over the previous year, according to The Leader.
Demand is growing significantly on the Costa del Sol as well, with discerning buyers looking for high quality second homes and primary residences. Penthouses in particular are proving popular, with Globaliza.com reporting price premiums of 30% for such dwellings.
Marc Pritchard, Sales and Marketing Director of leading homebuilder Taylor Wimpey Espana, which has just released a new phase of its stunning Avalon development, with two and three bedroom apartments from €265,000, along with a lovely selection of penthouses, comments,
"We've seen a lot of interest from foreign buyers in the Costa del Sol recently and our penthouses are proving particularly popular. Buyers are looking for extremely high build quality at the moment, along with serious luxury when it comes to interiors. Obviously this is great news for Taylor Wimpey Espana as this is our ethos.
"As well as Avalon, our La Floresta Sur site near Marbella is proving a hit with buyers this year. Two bedroom apartments are available from €178,000, with buyers looking to enjoy the area's fabulous sea and mountain views, lovely beach and delicious cuisine. Two large communal swimming pools and landscaped gardens provide a delightful setting for La Floresta Sur, while free unlimited use of all the facilities of El Soto Golf Club also add to the development's family appeal."
Interestingly, a new report from Aguirre Newman has shown that not only are foreign investors attracted by the bargain property prices of the Costa del Sol, but that they are also cash-rich when it comes to purchasing, with 90% able to buy their new property without financing, in stark contrast to the domestic market.
Such foreign investment is helping to reinvigorate the Spanish market and bringing money back into the country. The demand for new build property is also creating jobs and comes in light of the news that unemployment is finally falling. Employment Ministry figures show a decrease in the number of unemployed people of 122,700 in June, followed by a decrease of 29,800 in July.
While Spain's recovery is still at an early stage, the future is looking increasingly rosy for the Iberian nation, so those looking to pick up Spanish property at the perfect price point had better act fast!
For more information, visit taylorwimpeyspain.com.