Buying a home can be cheaper than renting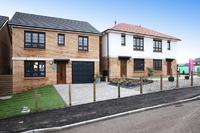 Buckley residents could save around £600 a year if they upgrade from renting to buying, new figures have shown.
According to the Halifax, the average first-time buyer in Wales pays £532 a month for a three-bedroom home; the bank says that's £45 a month less than the equivalent rent for a similar property.
So buying a brand new Redrow home at Abode in Buckley will be attractive to those who are tired of spending their hard-earned cash on rent and are keen to make that first purchase.
Elaine Mounsey, area sales manager for Redrow Homes (NW), said: "When you compare the cost of buying to renting, homeownership wins hands down as some of our customers have found. And there are additional savings to be had on maintenance, DIY and energy bills too."
"What's more, with Help to Buy available, first-time buyers in North Wales are in a great position to get onto the housing ladder."
Help to Buy is aimed at those lacking a substantial deposit. All homes under £300,000 qualify for Help to Buy Wales which means they can be purchased with, typically, a 5% deposit. Purchasers cover the remaining costs with up to a 20% equity loan from the Welsh Government, interest free for five years, and a 75% mortgage from a lender of choice.
For example, the 'Abode 1130', a three-bedroom home priced at £224,995 can have its initial purchase price reduced to £179,996 with a deposit of just £11,250 needed.
It's one of a number of two, three and four-bedroom homes currently available, with prices starting from £186,995 for a two-bedroom semi-detached property up to £249,995 for a detached four-bedroom home.
Exterior brickwork, render, window styles and doors present an 'uncluttered' but very smart façade and there's the careful consideration and extra design details that Redrow's renowned for. Inside, the homes boast highly specified, open-plan living spaces and in-vogue features such as underfloor heating and wetrooms.
Optional extras which add to the contemporary feel of the Abode homes include outdoor kitchens and high spec, low maintenance AstroTurf and lighting for gardens.
Redrow homes are more energy efficient than older counterparts thanks to the use of high quality insulation materials, low energy boilers and efficient ventilation systems, alongside good quality double glazing and improved air tightness; which all help to keep those energy bills low.
Chester city centre is just 10 miles away but the semi-rural setting means buyers have easy access to the shops, entertainment and culture that a major city offers, yet can return home to a quieter more relaxed environment. There are also the high street fashion and home furnishing stores at nearby Broughton Retail Park, which is currently undergoing an expansion to include a new 11-screen cinema, choice of restaurants and a new bus hub.
For more information visit redrow.co.uk/abode.
Alternatively, visit the Drury Lane marketing suite which is open daily from Tuesday to Sunday 10am to 5.30pm and on Mondays from 11am to 5.30pm.