Yukon's Southern Lakes - An adventurer's playground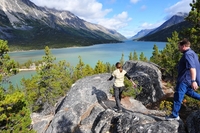 Explore a network of deep blue lakes backed by coastal mountains and villages filled with artists, attractions and unforgettable history, all just a short drive from Whitehorse.
Come play in the enchanting waterways of the Southern Lakes which is gaining recognition worldwide as a hot spot for outdoor adventure sports, wildlife viewing and authentic Yukon hospitality. This interconnected system of glacier-fed lakes and rivers forms the headwaters of the mighty Yukon River, and is also home to diverse landscapes—from desert dunes to rolling mountains. The legendary river holds countless stories, from the Southern Tutchone and Tagish-speaking first peoples of the region, the stampeders on their way to the Klondike goldfields, to the adventure- seekers of today.
The Southern Lakes Circuit is comprised of four scenic highways joining the waterfront communities of Whitehorse, Mount Lorne, Carcross, Tagish, Marsh Lake, Teslin and Atlin. Enjoy aquamarine lakes, hikeable peaks, beaches and panoramic views, and delight in finding out-of-the-way inns, B&Bs and artist studios. Discover First Nations culture and heritage in Carcross and Teslin, and the beautiful Southern Lakes that beckon for boating and paddling excursions.
Teslin (long waters): This scenic lakeside community on the Alaska Highway is the home of the Teslin Tlingit and a former Hudson's Bay Company trading post. Teslin has a general store, highway service centre, restaurant, motel, museum, RV campground, tours and cultural attractions. Teslin's seven-arched Nisutlin Bay Bridge is the longest bridge on the Alaska Highway. Population: 446
Tagish: The rural community of Tagish is situated around the Tagish (Six-Mile) River linking Marsh and Tagish lakes. The area is a popular cottage retreat with locals who congregate for trout shing and summer holidays. Tagish is geared to water activities with visitor services that include a restaurant, café, campground, cabin rentals, marina and guided shing. Population: 250
Marsh Lake: Half an hour south of Whitehorse on the Alaska Highway lies Marsh Lake, a rural community and popular destination for beach goers, birdwatchers, boaters and visitors. Marsh Lake area services include an inn, a campground, bed and breakfasts and tour- guiding services. Population: 522
Atlin: Often called "Little Switzerland of the North," this remote community in northwestern British Columbia has accommodations, attractions and natural warm springs. Breathtaking Atlin Lake (big water) is the focal point of the town. Atlin Provincial Park is a wilderness destination for boaters, paddlers, hikers and heli-skiers. The Atlin area is home to the Taku River Tlingit First Nation and is accessible only through the Yukon. Population: 400
Carcross: Waterways, roadways and the White Pass & Yukon Route railroad all converge in historic Carcross. Originally called Caribou Crossing, this picturesque village is home to the Carcross/Tagish First Nation and offers a variety of visitor services, attractions and activities including historic buildings and bridges, day tours, retreats, bed and breakfasts, snack and gift shops. Carcross is widely known for its world-class mountain biking trails and scenic hiking opportunities. Population: 440
Mount Lorne: The hamlet of Mount Lorne offers bed and breakfasts, artists' studio tours and interesting local events. This community surrounding the scenic Annie Lake Road is home to an eclectic mix of residents including artisans, entrepreneurs and many Yukon dog mushers. Population: 370
Water, Water Everywhere
With nearly 400 miles of scenic interconnected lakes weaving through the region, a trip onto Southern Lakes waterways gives you that 'Larger Than Life' experience. Local operators offer charters, boat rentals, fishing, wildlife viewing, guiding and other services.
Wexas Travel offer fly-drive packages to the Yukon from £1,535 per person including return flights from London Heathrow to Whitehorse and 7 days car hire. For more information, visit wexas.com.