Westjet announce new service from Glasgow to Halifax Nova Scotia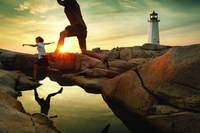 Westjet Airlines have announced its first United Kingdom to Canada service.
Commencing on the 29th May 2015 Wesjet will operate a daily service from Glasgow to Halifax Nova Scotia, the flight will depart Glasgow at 09.30 and arrive in Halifax at 11.45 local time.The return service will depart Halifax at 22.45 arriving the following morning into Glasgow at 08.00am
Westjet will operate the service on one of the airline's Boeing Next-Generation 737-700 series aircraft on a daily basis until 23 October 2015.
"Nova Scotia and Scotland have always had close ties and this connection between Halifax and Glasgow only brings us closer," said Nova Scotia Premier Stephen McNeil. "Whether it's a business traveler looking for opportunities to export our goods and services to Europe, or tourists who now have an easier way to experience Nova Scotia's hospitality, this link will help drive our economy forward."
We are delighted that WestJet will offer direct service to Glasgow," says Joyce Carter, President and CEO of the Halifax International Airport Authority. "This new route connects our region to a destination that has deep-rooted cultural significance for many of us, and takes full-advantage of pent-up demand for service to this market."