You'd be foalish to miss Aldi's new equestrian range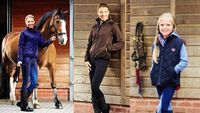 Canter off with great-value quality gear this winter, thanks to the Aldi Specialbuys Equestrian range which goes into stores nationwide on 26th October.
This long-sleeved Ladies' Training Jacket (£19.99) is made from a fantastic functional fabric that is breathable, windproof and water repellent. The stretch material also means you can move easily yet fit extra layers underneath for warmth – ideal for bracing mornings. Team it with this Ladies' Seamless Bamboo Base Layer (£9.99), Ladies' Riding Fleece (£6.99) or Ladies' Funnel Neck Top (£12.99), to ensure even the most faint-hearted of fillies enjoy taking the reins this winter.
Whether around the yard, or out in the fields, you'll be comfortable and sure-footed in these durable, easy-clean Ladies' Multipurpose Boots. At only £12.99, and available in both brown and black, you're sure to impress fellow horse-riding neigh-bours.
Stay safe and stylish with Aldi's Ladies' Hi-Vis Reversible Gilets (£14.99), available in two fabulous colour combinations: yellow and black or pink and navy. With the beautiful embroidery and water-repellent finish, you will look and feel great whatever the weather.
The range also has some fantastic clothing for children, so they too can canter without breaking the bank of Mum and Dad. From Children's Riding Jodhpurs (£7.99) and Multipurpose Boots (£9.99) to Riding Fleeces (£4.99) and Hi-Vis Reversible Gilets (£9.99), your little one will be kept cosy as they saddle up this season.
Whether you're just starting out or a riding pro, be properly equipped for less with Aldi Specialbuys Equestrian range, which goes into store on the 26th October – but be sure not to delay, as once it's gone, it's gone!
Available on 26.10.14
Product Price
Winter Equestrian Accessories £2.49
Ladies' Winter Riding Socks £4.99
Children's Riding Fleece £4.99
Ladies' Riding Fleece £6.99
Children's Riding Jodhpurs £7.99
Children's Hi-Vis Reversible Gilet £9.99
Ladies' Seamless Bamboo Base Layer £9.99
Girls' Multipurpose Boots £9.99
Ladies' Funnel Neck Top £12.99
Ladies' Multipurpose Boots £12.99
Ladies' Winter Riding Jodhpurs £12.99
Ladies' Hi-Vis Reversible Gilet £14.99
Ladies' Training Jacket £19.99
Available while stocks last