Modern-day polar explorers rewarded with 'The Shackleton Club'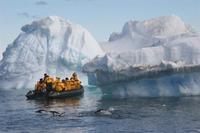 Quark Expeditions, the polar expedition leader announces the launch of a new rewards program to honor its loyal travellers beginning in November 2014 to coincide with the Antarctic 2014/15 season.
"In late 2013, we polled our loyal past passengers to understand what benefits they would most value in a rewards program," said Hans Lagerweij, president of Quark Expeditions. "We listened to what our passengers told us and designed The Shackleton Club to deliver the benefits that matter most to them when they travel again with Quark."
Quark is a company that pioneered expedition travel to the Polar Regions so that passengers could explore the wonder of these unique and remote destinations in a safe and accessible manner. As such, the new loyalty program was named as homage to one of the most famous explorers of all time, Sir Ernest Shackleton. Though Shackleton's explorations were of the Antarctic Continent, his quest to venture into the great unknown still resonates today with aspiring explorers, regardless of their destination.
The Shackleton Club will reward Quark's loyal passengers with benefits and value-add options so they can personalise their Polar experience. Membership is open to anyone and those interested can sign up for The Shackleton Club online. Rewards will be fulfilled as of a passenger's second Quark voyage for Bronze level, third Quark voyage for Silver level and fourth Quark voyage for Gold level. Benefits of the program include:

Discount on future travel, combinable with other in-market promotions

Onboard option of either internet card or satellite calling card

Opportunity for last minute cabin upgrade (where available) for Silver and Gold members
"Many of our partners have asked if Shackleton himself will be travelling with our members. We can proudly say that although Sir Ernest Shackleton himself won't be onboard, his cousin and Antarctic historian, Jonathan Shackleton, often travels with us, so it is always a possibility." continued Lagerweij. Information about Shackleton's guest appearances on select Quark voyages can be found by visiting our Special Guests page.
For more information, visit quarkexpeditions.com.