Engel & Völkers reports end of summer rush in the Balearics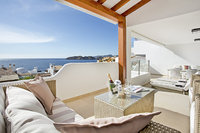 After a long hot summer Engel & Völkers, with 19 shops throughout The Balearic Islands, is reporting a strong sales outlook over summer 2013 and predicting a final rush of deals leading up to the close of this year. This movement is reflected by figures released this week by the Spanish National Statistics Office indicating an upturn in sales for the month of August in this region.
In Mallorca demand for property over 1M Euros continues the trend with the average spend ranging from just under 1MEuros in the north to 1.9M Euros in the south west representing a 27% rise over the average spend in 2013. Furthermore, a record square metre price of 27,000 Euros m2 was achieved this summer for a sea front villa in Puerto Andratx.
Throughout the island there is more market movement as mainly cash buyers make decisions faster encouraged by the stable real estate market conditions with price increases for exceptional sea frontline property. The apartment market is moving once more and there is now greater demand for plots.
Second home buyers are mainly British (encouraged by stronger sterling), German speaking and Scandinavian. Spain's Golden Visa legislation has had little impact on sales from non EU buyers although this summer there has been more interest from America, Canada and Australia.
In Ibiza where Engel & Völkers has two offices, price increases have been limited to the upper market segment as the supply of prime property decreases. Sales activity for this summer has been on a par with last year. However, the average spend has increased from 1M Euros to approximately 1.2M Euros.
Ibiza continues to attract an international mix of top buyers with demand from non European buyers increasing, particularly from the USA. However, the main buying market remains European with an increase in British buyers this summer. E&V regards the island's exposure and promotion worldwide as the main factor in attracting international buyers rather than the introduction of Spain's Golden Visa which has produced little interest. Generally clients are committing to buy faster than last year; they tend to look in the summer and return in the autumn to buy.
In Menorca sales are up by almost 10% over this time last year. Prime sea front properties are in demand particularly those with their own moorings. French buyers dominate the market with average sales of approximately 800,000 Euros. Menorca's rigorous environmental and strict planning regulations help create strong demand for top properties which are increasingly hard to find.
Generally prospects for the year end remain positive with more sales expected to close at the notary over the Christmas/New Year period.

For more information, visit engelvoelkers.com.

What's on the market for less than 1M Euros?
Mallorca:

Country Finca with 4 beds/3 baths, pool, terraces, gardens, located in Portol in the centre of the island, only 25 minutes drive from Palma Airport. Ref: W01X1JC Price: 995,000€:

Classic villa - only 100metres to the beach in Puerto Pollensa (north). 5 bedrooms/4 bathrooms, pool, gardens & terraces. Ref: W01WMY Price 895,000€
Modern 2 bed apartment, 10 minutes from Palma centre with open sea views. Ref: W010P3L Price 770,000€
Ibiza:

Villa near Cala Vedela with 4 bedrooms/3 bathrooms with pool and sea views. Ref: W00A1PH Price: 880,000€
Menorca:

New contemporary villa in Cala Llonga, 3 bedrooms, 4 bathrooms, pool, garden, terraces and sea views. Ref: W012ACP Price 1.1M€