Get active this winter with the Aldi specialbuys outdoor range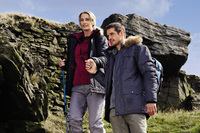 You'll find great deals for the great outdoors with Aldi's new, functional and affordable Outdoor range – in stores from 6th November and while stocks last.
Both fashionable and practical, wrap up in this Parka Jacket (£29.99) to keep warm on your walk. With a fleece-lined collar and detachable hood with removable fur trim, you can customise this jacket to suit the weather and ensure that you're always at the correct temperature.
Whether you're out hiking in the hills or marching up a mountain, having the right footwear will make all the difference when it comes to comfort, support and stability. Aldi's sturdy Walking Boots (£19.99) offer great foot and ankle support and also feature a waterproof membrane which will help keep your feet dry in even the wettest conditions. Alternatively, try on a pair of these Walking Shoes (£14.99) for size, or even combine them with a set of Memory Foam Insoles (£1.79) for the ultimate comfort experience.
As the temperature outside grows colder, wearing multiple layers becomes essential to staying warm. Aldi's Bamboo Base Layer (£4.99) and Outdoor Thermal Base Layer (£9.99) will help keep out the chill, while you can forget the cold and wet altogether in a pair of Teflon finished Thermal Outdoor Trousers (£11.99).
Aldi's Softshell Stretch Trousers (£14.99) feature a partially elasticated waistband for a comfortable fit while this warm Structured Fleece (£9.99) is perfect for crisp winter strolls, so even the least hardy of hikers can enjoy the great outdoors.
Make sure you've got everything you need, wherever your adventure takes you, with this handy 17 litre Outdoor Backpack (£5.99) which has plenty of space for your Torch & Headlight Set (£4.99) and Automatic Umbrella (£4.99), just in case the weather should take a turn for the worse.
Aldi's Outdoor range also includes a great selection of socks from Coolmax Liner Socks (£3.49), to these Wool Midweight Walking Socks (£3.99), available in four colours and with built-in ankle and arch support.
With everything from Gaiters (£4.99) to all important Walking Poles (£4.99), Aldi's new Outdoor range ensures that you can stride into winter with the knowledge that you're prepared whatever the weather.
Product - Price
Memory Foam Insoles £1.79
Coolmax Liner Sock 2pk £3.49
Wool Midweight Walking Socks £3.99
Torch & Headlight Set £4.99
Gaiters £4.99
Automatic Umbrella £4.99
Men's/Ladies' Bamboo Base Layer £4.99
Walking Pole £4.99
Outdoor Backpack £5.99
Men's/Ladies' Outdoor Thermal Base Layer £9.99
Men's/Ladies' Structured Fleece £9.99
Ladies' Thermal Outdoor Trousers £11.99
Men's Thermal Outdoor Trousers £11.99
Walking Shoes £14.99
Men's/Ladies' Softshell Stretch Trousers £14.99
Ladies' Walking Boots £19.99
Men's Walking Boots £19.99
Men's/Ladies' Parka Jacket £29.99
On sale from 06.11.14 and available while stocks last