Foreign buyers bag bargains as Spanish property market offers best value in Europe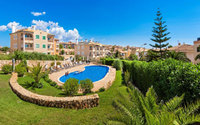 A popular winter sun destination, Spain is packed with delights to engage and entertain those looking to while away the days in a warmer clime than the UK affords. The temperate weather has appealed to holidaymakers for decades, with average temperatures remaining firmly above 10C/50F, even in the depths of winter. Even the sea remains a respectable average of 15C/59F at the coldest point in its annual temperature cycle, according to holiday-weather.com.
With property prices that have fallen significantly since the global financial crisis, many investors are seeing now as the perfect time to put their funds into Spain's housing market. Spanish real estate and construction accounted for around 18% of Spain's GDP back in 2007, with a market capitalisation of more than €30 billion. It is now about a tenth of that, with the result that economists and investors alike are looking at Spain as being one of the last bastions of good value property in Europe. European Portfolio Manager Dean Tenerelli of T Rowe Price summarises the situation succinctly,
"We are at an interesting juncture as real estate in Spain has reached a trough since the crisis; rent prices are historically low and there is an abundance of low-cost property on sale."
Marc Pritchard, Sales and Marketing Director of leading Spanish homebuilder Taylor Wimpey Espana, at the heart of the Iberian country's residential property market, comments,
"Spanish property is some of the best value in Europe. Buyers from across the globe are taking an interest in what Spain can offer, both as an investment choice and for the lifestyle benefits. We've found that our buyers include a mixture of those looking for an escape pad for long weekends, those chasing the winter sun and then summering in their country of origin and those looking to move fulltime to Spain and settle here for the long term.
"The Balearics are proving particularly popular right now. They provide fantastic value and developments such as our Cala Magrana III resort, which offers easy access to both golfing and beaches, are being snapped up at an impressive pace. So much so that we only have a few apartments left there."
Two bedroom apartments at Cala Magrana III currently cost from €230,000 thanks to an end of season offer from Taylor Wimpey Espana. Foreign buyers are enjoying the high end apartments, with their designer fixtures and fittings, large swimming pool and communal gardens, as well as the sandy beaches, coves, water sports and crystal waters of the surrounding area.
Figures from the recent HiFX Property Hotspots Report confirm the interest that foreign buyers are currently taking in Spain. The latest report saw Spain tie in first place with France as the destination of choice for buyers, garnering some 35% of the vote. Additionally, the National Statistics Institute has confirmed that home sales are rising, up 8.8% in June 2014 compared with a year earlier, while Spain´s society of notaries has reported that foreign buyers favour coastal areas. The breakdown of foreign buyers included 15% Brits, 10% French, 9% Russians and 7% Belgians, according to the data.
While the influx of foreign property investors is good news for Spain's economy, the situation for domestic buyers is also looking up. Deloitte's fourth annual analysis of the Spanish housing market has shown that the average price of housing is now 4.4 times the individual gross salary. This compares with an EU average ratio of 6.1%, rising to 7.9% in France and 8.5% in Britain.
Interestingly, many of the 'domestic' buyers benefitting from this situation are foreigners already living in Spain. According to data from the Ministry of Development, 89% of foreign buyers in the second quarter of 2014 were already living in Spain. The figures reveal that Malaga is one of the most popular parts of Spain when it comes to home sales to foreigners, which reached a total of 2,499 transactions during Q2 2014 – a level not seen since 2007 and an increase of 30% over Q2 2013.
Taylor Wimpey Espana's experience certainly supports the finding. Their Horizon Beach development in the Estepona area of Malaga has only a few apartments left for sale. One of the last beachfront plots in the Costa del Sol, Horizon Beach's 36 two and three bedroom apartments and penthouses offer a level of exclusivity that sets them apart, having been designed to impress even the most demanding of buyers. Prices start at €370,000. Taylor Wimpey Espana's Marc Pritchard concludes,
"It is the perfect time to buy in Spain right now, whether for foreign property investors or domestic buyers. Property here offers some incredible bargains and it's great to see the market beginning to pick up pace as the world wakes up to the excellent value for money that the Spanish residential property market currently affords."
For more information, visit taylorwimpeyspain.com.