Gibraltar property wins best in Europe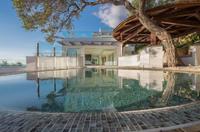 Gibraltar's New Aloes has been handed 'Best Property Single Unit – Europe' in The International Property Awards in association with Rolls-Royce Motor Cars. The win sends Gibraltar into the 'World's Best' finals in Dubai where it will go head-to-head against winners from Africa, Arabia, the Americas, Asia Pacific and the UK.
Sandra Lamplough, Marketing Manager for Fairhomes Group, the developer behind New Aloes, says, "It's one thing to be acknowledged as having built the best home in Gibraltar but quite another to beat off competition from the likes of Cyprus, Italy, Spain and Montenegro, to earn the accolade of best property in Europe. A great deal of precise engineering, construction and design went into New Aloes and we have been rewarded with the chance to grab World's Best in Dubai on Thursday 4 December – that would be some early Christmas present."
Fairhomes Group is no stranger to winning awards and has amassed a large number of trophies over the years, in particular for its mixed-use marina resort, Ocean Village, which also won overall in Europe back in the 2010 in the category of Best High Rise Development. However, this is the Company's first win for a single unit, making it rather special.
Held at the London Marriott Hotel in Grosvenor Square on Tuesday 14 October, the ceremony gathered together leading real estate agents, developers, architects and designers from across Europe eager to hear the results of the industry's most prestigious Awards. Established in 1995, some 19 years ago, this year's Awards were held in association with Rolls-Royce Motor Cars, Metal Yapi, Yamaha Music, Gaggenau, Smeg and Maybank. Lord Best from the British House of Lords and Chairman of Metal Yapi, Bülent Özgül, appeared on stage to present while many of the 70 experts on the judging panel were also in attendance.
Built on the site of a former Ministry of Defence building of the same name, New Aloes is a substantial 21st century home of 9,526ft² with 4,402ft² of terraces and 6,243ft² of garden. It enjoys some of the best views in the world including the Rif Mountains of North Africa and the busy Strait of Gibraltar. Floor-to-ceiling wall-to-wall glazing keeps the view alive from dawn until sunset.
Some of New Aloes' highlights include a cavernous 1,237ft² living-dining space, a 592ft² kitchen complete with 25ft long all-in-one preparation-dining island, wet rooms with over-bath rain showers, a second-floor fitness suite with a Klafs sauna-with-a-view, a 12-car garage, Otis lift to all floors, and gadgetry such as electronically-operated full-height terrace doors and window blinds, auto-lighting for wardrobe hanging rails, an iLight lighting control system, video entry and a zoned alarm system with CCTV.
Outside, New Aloes' gardens are zoned into areas for rest and relaxation, entertaining and exercise. A shaded patio leads down to a thatched Tahiti-style chillout bar alongside a circular two-tier swimming pool with Jacuzzi effect jets. This connects, via a shallow stream, to the main infinity-edge heated pool with remote-operated colour-changing LEDs and water jets. The upper Spa terrace has a further heated pool with mosaic hydro-massage beds and, on the top floor, a glazed observatory-esque viewing area and two generous roof terraces. Add fragrant plants, native aloe vera (naturally) and a few dozen 100-year-old olive trees, and it's a very special place.
New Aloes – Price £10.9 million (GBP).

For more information on New Aloes, visit newaloesgibraltar.com.