Rufus Wainwright heads the line-up when Mastertapes returns to BBC Radio 4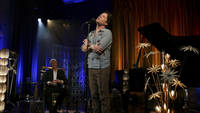 The series where musicians and songwriters share their intimate thoughts on their albums. Kicking off with Rufus Wainwright, series four also features Manic Street Preachers, The Boomtown Rats, Angelique Kidjo and Sinead O'Connor.
Rufus Wainwright begins the series talking to John about Want One, which was intended to be a double album. It has been variously described as 'obscenely lush', a 'gorgeous meditation on emotional displacement' and 'a three-hankie weepie'. Full of songs about love, loss, family and addiction, Wainwright pulls no punches in telling his story. He is open on all subjects and talks about substance abuse and the extreme sexual behaviour which led to him going into rehab. There are also revelations about the final days of the life of his mother, Kate McGarrigle.
John Wilson, the presenter of Mastertapes, says: "What I love about the programme is having the chance to take artists back to those moments when words and chords, that later became well known songs, were first put together in a bedroom or a rehearsal room. And the songs performed live at Maida Vale are often more like the original demos than the finished, polished versions we know so well. It's a programme that digs to the roots of the music."
The session was filmed and this is the first time listeners can see a version of the programme using the Red Button.
Also lined-up for the series, the Manic Street Preachers play their way back to 1994 and the making of The Holy Bible. The album was released only five months before the disappearance of main lyricist and rhythm guitarist Richey Edwards. The band is about to take this career defining album back on tour in December. It is the first time in two decades that Nicky, James and Sean have played some of the songs in front of an audience for this special edition of Mastertapes.
Named after a gang in Woody Guthrie's autobiography, The Boomtown Rats had a series of hits between 1977 and 1985. Their 1978 album A Tonic For The Troops was their second and included tracks like She's So Modern and Like Clockwork and Rat Trap, which brought them their first Number 1 hit.
Angelique Kidjo is a Grammy Award–winning singer-songwriter and activist from West Africa. Her albums regularly top the World Albums Charts. She talks to John Wilson about her breakthrough album Ayé and life in Benin.
Noel Gallagher discusses his self -titled album, Noel Gallagher's High Flying Birds, and life after Oasis. Completing the line-up, Sinead O'Connor talks about religion and her Theology album.