Lake of Menteith launches 9th Winter Wine series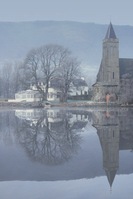 The ninth annual Winter Wine & Gourmet Dining series at the Lake of Menteith Hotel has kicked off and for the first time, includes a half price bed and breakfast deal.
This highly successful programme runs annually at the award winning Lake of Menteith Hotel in Perthshire and features a range of events inspired by vineyards and cuisine from across the globe. For the first time, the Winter Wine & Gourmet Dining series now includes a half price bed and breakfast deal for guests who want to add on a relaxing Thursday night stay prior to the event on the Friday night.
The jewel in the crown of the series is the popular Annual American Evening, which takes place on Friday 9th January 2015 and is hosted by Ian Fleming, owner of The Lake of Menteith Hotel and sister hotel, The Robert Morris Inn in Maryland, USA. Overseeing the menu is the Lake's Head Chef Dan Bryant, who has just returned from a two year stint working on America's Eastern Shore.
Ian Fleming commented; "We never envisaged when we started the Winter Wine series nine years ago just how successful it would become. Now in our ninth year, we have a programme of fourteen events inspired by wine regions as varied as Tokaj in North Hungary to Cloudy Bay in New Zealand and the innovative vineyards of Chile. Regardless of which event tempts your palate, the offering is consistently one of exceptional food and wine, a warm lakeside welcome and the chance to enjoy a relaxing overnight stay in a room of your choice."
Other highlights on this year's programme include the ever popular wines of South Africa, an evening enjoying wines of Burgundy and at the end of March next year, the chance to enjoy hand-picked favourites from Bridge of Allan's Woodwinters Wine & Spirits.
Ian Fleming, owner of the Lake of Menteith Hotel, added; "There is always great anticipation from our customers as well as the team here as we approach our lively food and wine evenings. They never fail to lift the mood during the dark winter nights and with the hustle and bustle of the summer tourist season now past, this can be the perfect time of year to enjoy the peace and tranquillity of our exceptional location."
A limited number of non resident spaces start from £58 per person and go up to £315 for two people sharing a Superior Lake View Heritage room, inclusive of afternoon tea, appetizer, three course dinner, wines, overnight accommodation and breakfast for two people.
Nestling on the edge of the Lake of Menteith in Perthshire, this award winning hotel is only an hour's drive from both Glasgow and Edinburgh. Refurbished in the style of a New England waterfront hotel, the Lake of Menteith is a popular haunt for foodies and for lovers of good wine, whisky and a warm Scottish welcome.
For further information about the 'Winter Wine & Gourmet Dining' series or to make a booking, visit lake-hotel.com.