Interior designers put their stylish stamp on Taylor Wimpey showhomes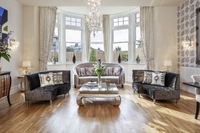 Home-owners seeking a bang-up-to-date look for their property should be incorporating fashion colour pallets, geometric patterns and rich velvets within their interior themes, according to a leading interior designer who has been busy transforming a host of Taylor Wimpey's showhomes across the south east.
Fiona Stephens, of Omnific Designs, based in Hampshire, has been tasked by the leading housebuilder to design several of its showhomes with the latest on-trend looks. She says: "It's all about working with Taylor Wimpey to bring colour schemes that suit their customers' profile, which are innovative and up to date.
"We are constantly looking at new collections, colours and ideas to guide our designs.
"We like to have a colour theme for the homes – nothing drastic, but something that flows naturally as you walk from room to room. For example, berry colours could be an inspiration which we subtly use throughout the house, whilst making sure that every room has its own features and identity."
"The children's rooms, however, are something we do a bit differently. We often look at localities in the area and then design the room on a set theme – if there is a something interesting like a scouts hut or a football team nearby, this would play a huge part in the overall look and design of the bedroom. We want the children who see them to feel they would love to live in that room."
Geometric patterns that offer simplistic, intriguing and captivating shapes are something people can expect to see in the future of interior design, being a great way to accent walls and add subtle colour – without taking away from the rest of the room.
Fiona says: "The new thing to watch out for is definitely geometrics, whether it is on walls or on fabrics – we've seen a lot of this in new collections, and we will definitely work closely with these in the future."
One of the showhomes receiving a fresh new look from Fiona and her team is a two-bedroom apartment at Royal Alexandra Quarter in Brighton.
The stunning property in the newly refurbished Old Children's Hospital boasts a unique design and interior layout to make the most of the historic building's traditional features.
Fiona adds: "We had the honour of designing the showhome apartment at Royal Alexandra Quarter and as this was such a remarkable apartment to begin with, we wanted to maintain as well as emphasise all of the original features.
"We decided on a unique theme to appeal to someone who might be a collector, who would love to travel and have lots of memorabilia – this type of market was quite different, but we developed it with the buyers in mind to suit a traditional style."
Omnific Designs also worked on the fabulous 'Hawthorn' four-bedroom showhome at Oaklands, Crookham Park, a development in Church Crookham, Hampshire, set within acres of forest and grassland, with the property boasting a rich gold and black theme throughout.
Fiona says: "You can't approach all houses the same – different areas bring different clientele, and there are a lot of things in the area locally that can bring inspiration to the way we design a room.
"But for every home it's the small details that can really make all the difference. With this property in the country, for example, the fabric patterns offer leaves, or natural and chocolate colours to reflect this.
"It's great to work with Taylor Wimpey – we're given an initial brief which we work closely with, but we're trusted with our designs and we work well together to create a great showhome."
Home-hunters can explore the showhomes designed by Omnific at the following locations:
Royal Alexandra Quarter
Dyke Road, Brighton, BN1 3JN

Oaklands at Crookham Park
152 Jubilee Drive, Church Crookham, GU52 8DB

Mantell Park
Bylanes Close, Cuckfield, RH17 5HB
For further information on Taylor Wimpey developments across the region visit taylorwimpey.co.uk.