The Three Wise Women of 6 Music this Christmas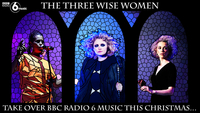 This Christmas Three Wise Women take over BBC Radio 6 Music, bearing gifts to delight the listener. Across Christmas Eve, Christmas Day and Boxing Day, St Vincent, Neneh Cherry and Alison Goldfrapp will each curate several hours of programming.
Noel Gallagher will be co-hosting a show with Steve Lamacq, Jarvis Cocker returns for a one-off special, there's an Icelandic-themed Winter Solstice special and Mark Radcliffe and Stuart Maconie will be live from Manchester's Christmas Market. Craig Charles and Nemone will be delivering New Year's Eve delights and Lemmy will be kicking off the New Year with a 'Bad Santa' special.
Paul Rodgers, Head of Programmes for 6 Music, said: "2014 has been a great year for 6 Music. There have been some significant developments such as a new weekend schedule, the introduction of Iggy Pop, an increased emphasis on live music with the inaugural 6 Music Festival from Salford adding to the 300 plus live music sessions the station already originates, and the launch of a new music strand in 6 Music Recommends. These developments have built on existing high quality shows and presenters, and now more listeners are enjoying 6 Music for longer, with almost two million listeners tuning in each week. Hopefully, the breadth of music and gems selected from the archive by our guest presenters this Christmas will provide some real holiday treats that listeners can continue to catch up with and explore long into the New Year."
Across Christmas Eve, Christmas Day and Boxing Day, the Three Wise Women will each be curating several hours of programming, which includes: presenting a two hour show (4-6pm) with music, chat and a Wise Gift track (a song they pick as their pearl of wisdom to share with listeners); choosing the network's Album of the Day; looking through the 6 Music Archive to select their favourite First Time With (6-7pm) and Iggy Pop (7-9pm) shows from across the year; plus documentaries and choices for The Live Hour which will air overnight.
Art-rock supremo St Vincent - aka Annie Clark - is the first of The Three Wise Woman of 6 Music. With a fiercely unique sound and being a full-on music obsessive, in her two hour show she'll be chatting about what goes on in the Clark family household over the festive period and demonstrating her eclectic palate from Nine Inch Nails to John Coltrane, Cate Le Bon to Peggy Lee. Listeners will hear Annie's favourite track of 2014 and her Wise Gift choice is a song from John Coltrane which changed her life. Her Album of the Day choice is from one of hip hop's finest beat makers, musical innovators and production geniuses, J Dilla. From the 6 Music Archive she has chosen The First Time with David Byrne (6-7pm) and Iggy Pop's 'Preachers and Seers' themed show (7-9pm). Her overnight documentary selections are Classic Albums – Kate Bush: the Hounds of love, Essential Albums Of The 90's: Nirvana: Nevermind, and The Live Hour will be featuring Fela Kuti live at Glastonbury and archive BBC sessions from Stereolab, Nick Cave and PJ Harvey.
St Vincent said, "I've had the pleasure to be picked as one of The Three Wise Women, to play some of my favourite tracks and perhaps introduce 6 Music's listeners to some music they don't know but might love, and then some things they probably do know and hopefully also love. I'm really excited to get started."
Unwrapping the 6 Music archive and sharing her superlative music taste with listeners on Christmas Day will be Neneh Cherry. She burst onto the scene with her performance of Buffalo Stance, whilst pregnant, on Top of the Pops in 1988. She was instrumental in developing the sound system culture and the triphop sound and this year, following a hiatus of 16 years, released her fourth, critically-acclaimed solo album. Her return is being hailed as one of the most creative chapters in an already fascinating career. Her music selections for her show will include punk, jazz, reggae, hip hop, and soul tracks and she has selected from the 6 Music archive The First Time with Quentin Tarantino (6-7pm) and Iggy Pop's Desire themed show (7-9pm). Neneh's overnight documentary choices are Looking For The Perfect Beat (about the birth of hip hop) and Way Out West: The Bristol Underground Story.
Neneh Cherry said, "I'm honoured and touched and, in fact, quite amazed to be one of 6 Music's Wise Women this Christmas. I don't know about the wise bit, but none the less it's happening and I find myself in the best female company of the genius beauties St Vincent & Alison Goldfrapp. The BBC has a vast library of music and documentaries, so to have access to this world is a dream come true, or maybe the best Christmas present ever! A journey through the left field, new school, old school, now, and the future."
Pioneering creative, Alison Goldfrapp, is the third of The Three Wise Women. She'll be keeping listeners warm with her musical wisdom in her show on Boxing Day. She has been an innovative presence in music for over a decade, with her albums touching upon everything from triphop to stomping electro-glam to pastoral folk, and this year she has also co-created an award winning 30-minute film. Her 6 Music Archive selections are The First Time With David Lynch (6-7pm) and Iggy Pop's 'Car Songs' themed show (7-9pm). Alison's overnight documentary picks are La Chanson de Serge: The Serge Gainsbourg Story presented by Malcolm McLaren, The Morricone Affair - a tribute to the Italian composer Ennio Morricone, a rare Kate Bush interview from 2005 in which she talks about her album Aerial, and in the Live Hour she has chosen Air (1998), Leonard Cohen (1969), Stereolab (1991), and Radiohead at Glastonbury (1997). Alison has also selected Iggy Pop's John Peel Lecture 2014 about free music in a capitalist society.
Alison Goldfrapp said, "I'm delighted to have been chosen by BBC 6 Music as one of their 'Wise Women' this Christmas. I've been looking forward to digging through 6 Music's incredible archive of music and documentary content and presenting my personal favourites to the station's listeners, alongside the brilliant Neneh Cherry and St Vincent. It will be a Christmas treat both for me and hopefully for all of you listening at home."
On Monday 1 December the countdown to 6 Music's Album of the Year begins. The records, as chosen by the station's DJ's and producers, will be revealed daily in Shaun Keaveny's Breakfast Show (7-10am) along with an interview with the artist. A track from the album will be played in each show through the day. 6 Music's No 1 Album of the Year will be revealed on Friday 19 December, followed by a Now Playing special on Sunday 21 December looking at listeners' favourite albums of the year.
On Friday 12 December (4-7pm), Noel Gallagher will be co-hosting with Steve Lamacq for a festive special. Noel will be choosing some of the most influential records which have informed his career, from starting out in Manchester, through Oasis and up to the present day. The two take time to reminisce about the Britpop years, talk about Noel's current album and recent appearance on Gogglebox. And who knows, maybe they'll also be swapping turkey roasting tips and discussing the merits of tinsel versus baubles on the tree.
Mark Radcliffe and Stuart Maconie will be live from Manchester's Christmas Market with their annual 'last day in the office party' (Friday 19 December, 1-4pm). There will be live music from Badly Drawn Boy, The Unthanks and King Creosote plus chat with Maxine Peake and other special guests.
Also on Friday 19 December, Tom Ravenscroft (7-10pm) brings a seasonal show which will feature some specially recorded Festive covers from some of his favourite artists of the year including Marika Hackman, Francoise & the Atlas Mountains, and The Drink, plus there will be a few winter tales read by some surprise guests.
On Sunday 21 December, 6 Music celebrates the Winter Solstice with some tailored programming including American singer-songwriter John Grant - who recently relocated to Reykjavík - presenting John Grant's Songs from a Dark Place (1-2pm). This documentary explores the music, magic and rise of Icelandic music and Nordic Noir and how a land deprived of sunlight has become a melting pot for creativity and music. It will feature interviews with The Sugarcubes, plus emerging Icelandic talent including Olof Arnalds, Asegir, Mammut, hotly-tipped Fufanu, Ben Frost who is based in Reykjavík, and Dry The River who recorded their second album there. Shows throughout the day will be reflecting the theme of the longest night/shortest day, and overnight there will be another chance to hear Radio 4's Wireless Nights with Jarvis Cocker in which he explores the human condition after dark (1-2am).
On Christmas Eve, Gideon Coe brings a suitably seasonal show featuring three hours of festive tunes (9pm-12 midnight). He delivers his annual Obit Show (Monday 29 December, 9pm-midnight) honouring the great names from the world of music who passed away in 2014 including Bobby Womack, John Holt, Phil Everly, Tommy Ramone and Gerry Goffin. And on New Year's Day he'll be playing some great tunes due for release in 2015.
In his Early Breakfast show on Christmas Day (5-7am), Chris Hawkins will be speaking to one of the biggest names in kids TV, Justin Fletcher MBE, better known to many children and parents as CBeebies' Mr Tumble. Justin will be chatting about his extraordinary life as a children's television phenomenon and also about his father, Guy Fletcher, a songwriter who wrote for Elvis Presley, Ray Charles and Frankie Valli amongst others. With this heritage, Justin is well-placed to pick some great Christmas music for the show and will be talking about his own passion for music.
On Sunday 28 December (4-6pm) Jarvis Cocker returns to 6 Music to present a one-off Sunday Service 2014 special, with some quality tracks, random thoughts and spoken word gems as Jarvis rifles through his vast record collection that he's built up further during his yearlong sabbatical from the show.
New Year's Eve will be celebrated in style with the Craig Charles Funk and Soul House Party (7-10pm) building the excitement. There will be guest appearances bringing music treats and Craig has invited guest DJs The Reflex, Sam Redmore and Smoove to put together special mixes for the show. And Electric Ladyland live (10pm-1am) will see Nemone bring in the New Year with the best electronic beats and breaks from 2014, as well as some old classics and listener favourites.
On New Year's Day, Lemmy will be rockin' hard, taking over the 6 Music airwaves for two hours (from 7-9pm) sharing his love of all things rock 'n' roll. He is the bass player, vocalist and founding member of Motörhead following three years in Hawkwind. 2015 is a big year for Motörhead as they mark their 40th anniversary.
BBC Radio 6 Music is an interactive digital radio station that celebrates the alternative spirit of music and culture, bringing together the cutting-edge music of today and the iconic and ground-breaking sounds of the past 50 years. The network currently has a weekly reach of 1.99 million listeners and is home to respected music presenters including Shaun Keaveny, Lauren Laverne, Mark Radcliffe, Stuart Maconie, Steve Lamacq, Tom Robinson, Tom Ravenscroft, Huey Morgan, Cerys Matthews, Don Letts, Guy Garvey, Iggy Pop and Craig Charles.