Indian Summer app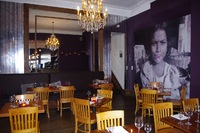 Brighton's award-winning Indian Summer restaurant, which has been part of Brighton's impressive dining scene for more than a decade has launched its own App for its growing number of regular customers who book online, mostly through their smart phone.
The East Street eatery is renowned for its authentic and modern healthy dishes, based on regional family recipes with a modern gastronomic twist.
Users of the App have a built in loyalty card, can view the latest menu, make online bookings, receive exclusive offers and benefit from a refer-a-friend discount.
The App can be downloaded from Apple's App store, through a link on Indian Summer's website or by scanning their unique QR (quick response) code, using a free scanning App on a smart phone. QRs are a square format barcode which have been used by supermarkets since the early 1970s.
Many ethnic restaurants have been traditional slow to adopt the advantages of online marketing, most now have websites, but remarkable few engage with social media or embrace electronic marketing," said Indian Restaurant co-owner, Minesh Angahotri.
But with Brighton having so many early adopters when it comes to technology, Indian Summer has been reaping the rewards of database e-marketing, Facebook and Twitter for several years.
"It's ironic than so much of the software we use in this country is actually developed offshore by programmers working in India," said Minesh.