Giggling Squid reopens in Hove after £150,000 storm damage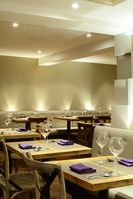 Giggling Squid, the restaurant which introduced the "Thai Tapas" concept to Britain in 2009, has reopened its 80 cover, split level, Hove branch restaurant following a £150,000 refit. All four floors of the property were extensively damaged in July by a violent summer storm when thousands of gallons of rain water cascaded through roof.
From its Hove origins six years ago, the privately owned restaurant has become of the UK's fastest growing chains, currently operating ten restaurants, with three more openings scheduled for early 2015 and advanced negotiations taking place on another six properties nationwide.
The expansion has come against a back drop of one of the worst economic downturns in a generation, having forged the concept in what remains the country's most competitive dining scene outside - London – that of Brighton and Hove.
In addition to Brighton and Hove, Giggling Squid currently operates successful venues in Crawley, Tunbridge Wells, Henley-on-Thames, Reigate, Stratford-upon-Avon, Marlow, Horsham and Sevenoaks. It will open in Bristol in February and Salisbury in March. Contracts have also been exchanged on a site in Chichester, West Sussex. Group turnover doubled in this year and is expected to redouble again in 2015. The company has been nominated for year's Sussex Business Times
'Entrepreneur of the Year' category.
Co-owned by Pranee Laurillard and her husband Andy (the brand is derived from the nickname of one of their three children), Giggling Squid has developed its winning formula of serving "rustic" Thai cuisine, with the emphasis on sea- and street-food.
Growing up in Thailand, Pranee was taught how to shop and cook by her mother and living on the banks of the Mekong river, developing a lifelong love of fresh fish.
Moving to London to study for a masters degree, Pranee was shocked to find the preponderance of processed packaged foods and lack of fresh fish. Completing her studies, she was drawn to the Sussex coast and opted to open the couple's first restaurant as a creative outlet for love of food and interior design skills. The reclaimed timbers sourced from Brighton's skips and drift wood collected on Andy's early morning runs, used in all Giggling Squid restaurants' modern chic décor, reflect the group's coastal origins. Much of the fish sold in Giggling Squid restaurants is still landed by fishing boats operating out of Shoreham.
Gourmet Evening
Hove will host Giggling Squid's first Thai gourmet evening on Monday 26th January with an exquisite six-course tasting menu, costing £35 per head. There will also be the option of ordering the menu with different paired wine for each course for £49 per person. The gourmet menu will be served at other Giggling Squid restaurants throughout 2015, allowing customers to try smaller portions of new and favourite dishes at a single sitting.
The wines will be selected by Toby Peirce of Brighton and Hove based Quaff Wines, who supplies all Giggling Squid restaurants.
It is widely recognised in the industry that specific wines are notoriously hard to match with the flavours of Asian and oriental cuisine. But there are themes that work and common threads are found through the wine lists of the very top sommeliers at Michelin-starred oriental restaurants around the world.
"It's been a real challenge, but a great pleasure, choosing wines that complement the subtle fresh flavours, such as kaffir lime and lemon used in Thai cooking, yet are robust enough to stand up to chilli and ginger," said Toby, advising "With whites, it's best to go with fruit-driven, aromatic varietals and blends, such as those from Alsace - think Pinot Gris, Riesling and Gewurztraminer in particular."
Peirce also recommends aromatic grade varieties such as viognier and sauvignon blanc which can work very well, especially in a blend. But he avoids dry, acidic wines which tend to clash with Thai food, preferring wines that are a little off-dry, or just very fruit-driven, as they work really well with any sweetness, heat or exotic flavours in the dish.
Quaff has designed a wine list which shows a combination of the wines customers expect to see, such as Pinot Grigio and Marlborough Sauvignon Blanc, with more aromatic and exotic styles
Peirce encourages customers to be brave enough to experiment with wines that might be slightly fuller and softer than those they would drink with European food; as European 'classics' often tend to vanish beneath the waves of flavour found in good Thai cuisine.
Reds tend to be even harder to match, but Giggling Squid's list favours softer, fruitier styles that complement Thai dishes. Mouth-drying tannins and high acidity, such as those found in classic French wines like Bordeaux, are a "big no-no"; the tannin clashes with any chilli, heat or sweetness in the dish.
Following extensive taste trials, Quaff has introduced fruit-driven New World wines seem to work well with an, "easy going" tempranillo from Spain an Argentinian Malbec which is proving especially popular with regulars.
Thai Holiday Competition
Giggling Squid has also revealed that it is to run a competition to win a fabulous holiday to Thailand including return flights and accommodation. Details will be announced on the company's website gigglingsquid.com and tweeted to its Twitter followers via @GigglingSquid.