David Wilson Homes puts space at the heart of homes in South Wales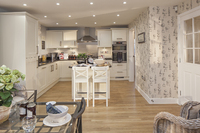 Whether you are looking for your first home, moving up the housing ladder or downsizing – space is one of the key factors in any purchase.
For some people it is the kitchen which must have space, others want open plan living to entertain, families often prioritise outside space and teenagers love the idea of their own space.
Five star housebuilder David Wilson Homes has space at the heart of its designs – something which sales director Richard Lawson said has proved a successful formula at its developments in South Wales.
"Gone are the days when people purely judge a new home on the number of bedrooms,'' said Richard. "Nowadays buyers are more discerning and they put use of space, quality of design and build and location above everything else.''
He said the key is providing homes which cater for modern day living and that means free-flowing space and quality in everything from light and airy designs through to energy efficient appliances.
"Homes in the past were simply not designed for modern living,'' said Richard. "People want spacious rooms – not just lots of rooms and they want to be comfortable.''
He said research by the five star housebuilder had revealed the importance of space to buyers of all ages and its homes are designed specifically to meet the needs of modern day living – and their changing priorities during the time they live there.
"Our homes have lounges which are large enough to entertain family and friends, particularly popular with Christmas approaching, we have kitchens with the very latest appliances, we have luxurious ensuite bathrooms and flexible living for those working from home,'' said Richard.
Buyers also have the opportunity to stamp their own individual mark on a blank canvas from day with the David Wilson Homes Expressions range of options.