STK London provocatively celebrates its second birthday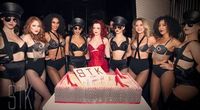 On Friday 21st November, STK London marked two successful years since the upscale modern steakhouse arrived in the UK, taking residence on the Strand, operated by New York based restaurateurs The ONE Group. The landmark was celebrated in style with a dinner party attended by over 500 regular diners and special guests.
In true STK style, the second birthday was celebrated with a bang, by a debut appearance by STK's own cabaret dancers, the STK Rebels, a premiere for STK London. The provocative, Champagne-fuelled two-hour production delighted guests, and further impromptu performances are now being planned for STK's big weekends throughout 2015. As the Champagne continued to flow, all party guests were treated to a slice of an impressive 500 portion indulgent birthday cake and even more bubbles.
The party of over 500 guests dined from STK London's signature a la carte menu of modern American dishes with international influences. A choice of 28 day custom-aged USDA prime beef, Japanese Wagyu and Hereford beef was offered in nine cuts; ranging from feather steak to fillet, and the famed cowboy steak; cut to order according to preferred portion size. Diners had a choice of a wide range of accompaniments; decadent toppings including black truffle, fried duck egg and grilled lobster tail and sauces varying from the classic Béarnaise to the signature STK sauce, allowing guests to fully customise their STK steak. Executive chef Barry Vera (previously at The Clarendon, Conran Restaurants and Marco Pierre White), was on hand to meet guests and recommended dishes.
In the two years since STK landed in London, the restaurant has consistently found itself serving over 500 guests a night at weekends, with their DJ on hand to entertain the room and bring the party to life. During midweek dinner service, the volume is turned down a notch, but service remains seamless with a knowlegable team engaging a discerning clientele of largely business guests, groups of friends and couples, who are serious about premium quality food, premium wines and innovative cocktails.
Building on its existing success, STK London enters 2015 with an exciting calendar of events including masterclass dinners with leading experts from the world of fashion, food and wine, and an exclusive designer collaboration for London Fashion Week. At two years, STK London is a young and flourishing restaurant, with a reputation as a premium food destination within the heart of the West End, where diners can enjoy a social atmosphere combined with first class steak and dishes designed to delight. Since its arrival in London, STK has won numerous awards and accolades, and was most recently voted London's top American and West End steak restaurant by Open Table diners.