Festive surprises on the Christmas Day menu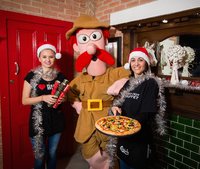 Hundreds of people in Leicester will be ignoring the turkey and stuffing served up on Christmas Day at Red Hot World Buffet, as they tuck into the less traditional dishes on the menu.

Chefs at Red Hot World Buffet have been raising a few eyebrows as they reveal the most popular dishes served up on Christmas Day in 2013, and it may surprise a people.

Over 4,500 people enjoyed Christmas Day at a Red Hot World Buffet in 2013 and treble the number of pizza slices and chicken korma curries, and over twice as many steaks were eaten over traditional turkey and trimmings.

The all you can choose buffet chain has a venue in Leicester's High Cross Shopping Centre, and is open throughout the festive period, including Christmas Day.

"We are always busy at Red Hot World Buffet on Christmas Day, as we offer something a little different, alongside the traditional turkey with all the trimmings," commented Mellissa Bignell, general manager of Red Hot World Buffet Leicester.

"Having opened earlier in the year, this will be our first Christmas in Leicester. There are options here for everyone to enjoy, but it does surprise me that dishes such as the chicken korma prove so popular on Christmas Day. I did notice last year though, that especially with the kids, there is always the odd brussel sprout or sausage wrapped in bacon alongside their pizza!

"Dining out on Christmas Day is proving more and more popular, and families all over the city will be going out to eat on December 25th, avoiding the headache of cooking a traditional Christmas dinner."

Red Hot World Buffet Leicester features eight live cooking stations, serving a range of international cuisine including sushi, Punjabi, south Indian, pizza and a world meats grill, and is the latest venue to receive a five-star food hygiene rating in Leicester.

Bookings are still available on Christmas Day priced at £24.99 per person. In addition to the existing menu and live cooking stations, an additional 22 items will be on the Christmas dinner menu, including traditional turkey with all the trimmings. Christmas parties can also be booked throughout December, with prices starting at £9.99 per person.

For more information on Red Hot World Buffet, including details on how to book, visit redhotworldbuffet.com.