Shake Shack to open second London location mid 2015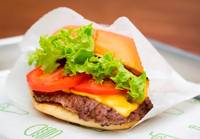 Danny Meyer's Union Square Hospitality Group (USHG) is proud to announce it will open its second London Shake Shack in the bustling Westfield Stratford City shopping centre. This Shack will build on the success of the original London Shake Shack in Covent Garden (July 2013).
Born in 2004 in New York City's Madison Square Park, Shake Shack is a critically acclaimed, modern day "roadside" burger stand known for its 100% all-natural Angus beef burgers, griddled-crisp flat-top dogs, fresh-made frozen custard, crinkle cut fries, craft beer and wine, and much more. A fun and lively community gathering spot with widespread appeal, over the past decade Shake Shack has earned a cult-like following around the world.
"Ever since we opened in Covent Garden, we've been humbled by the passionate response from Londoners. With fans packing our Shack daily, we thought it was about time we built another Shake Shack. Westfield Stratford City feels like the right place and the right time," says Randy Garutti, Shake Shack CEO. "We can't get enough of London's booming food culture and we're looking forward to deepening our roots with our fans, local farmers, artisanal producers and community."
Westfield Stratford City—one of the UK's premier retail locations—appeals to locals and visitors alike. Shake Shack will be located on "The Street" and encompass forward thinking architecture that fans around the world have grown to love. The unique interior design will feature recyclable and sustainable materials including reclaimed bowling alleys handcrafted in Brooklyn and retired rooftop water towers from Manhattan.
The menu will feature Shake Shack favourites including the ShackBurger, SmokeShack™, 'Shroom Burger and Shack-cago Dog. The majority of the ingredients and menu items are UK-sourced. The burgers are made with freshly ground 100% Scottish Aberdeen Angus beef (highly prized for its delicate texture and great taste – no hormones or antibiotics). Shake Shack's much-lauded burger the ShackBurger is made with cheese, fresh lettuce, tomato, ShackSauce, and finished with a buttered, toasted, soft potato roll. Shake Shack's unique take on a bacon burger, SmokeShack features British free-range Wiltshire cure smoked bacon, chopped cherry peppers and ShackSauce. The flat-top dog section of the menu features a London-only Cumberland Sausage handmade by Sillfield Farm using rare breed pork from Cumbria as well as the ShackMeister Sausage (Cumberland pork sausage topped with cheese sauce and crispy ShackMeister Ale-marinated shallots). Shake Shack's frozen custard—dense, rich and creamy ice cream—will be featured in shakes and concretes. Ready for the best part? Frozen custard is spun fresh daily at the Shack!
Shake Shack's commitment to the community will play a pivotal role in the launch of the Westfield Stratford City Shack. With plans to work alongside The London Lions basketball team, partner with local vendors for sourcing and support the local youth. Moreover, this opening is expected to create over 100 new jobs. Nigel Sherwood, Business Director of Shake Shack UK says, "This is an area of London where we can really help to make a difference and continue Shake Shack's mission to Stand for Something Good."
With its fine dining heritage, Shake Shack is an integral part of Danny Meyer's Union Square Hospitality Group which owns and operates some of New York City's most celebrated restaurants: Union Square Cafe, Gramercy Tavern, The Modern at the Museum of Modern Art, Maialino, North End Grill, Blue Smoke, Jazz Standard, and Untitled at the Whitney.
Union Square Hospitality Group has earned an unprecedented 25 James Beard Awards, as well as many other media accolades. The USHG family of restaurants has consistently appeared on Zagat's annual list of New York's Favourite Restaurants with Shake Shack earning the #4 spot for 2014.
For more information, including a list of all Shake Shack locations around the world, visit shakeshack.com.