Spanish mortgage changes tempt foreign buyers to purchase Iberian dream homes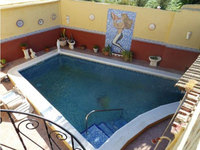 Spain's mortgage rate is making headlines at present with Euribor (the rate usually used to set mortgage interest payments in Spain) falling to 0.335% in November with this record low leading many buyers to act fast in order to purchase the property of their dreams.
In fact Spanish mortgages have been on a positive trend for some months with data from the National Statistics Institute showing that the number of mortgages constituted in September was up 29.8% on the year before. This follows year-on-year increases in June, July and August 2014, of 19%, 28.8% and 24% respectively.
So what does this mean for those considering heading off to Spain for a new life?
Martin Dell, Director of Spain's leading property portal, Kyero.com, which lists over 175,000 properties from 2,500 estate agents, explains,
"Quite simply, better access to finance means more sales to both domestic and overseas buyers. More than 90% of Spanish mortgages are based on Euribor which is at its lowest ever rate. This means huge savings for long term borrowers, tempting many to take out mortgages to buy their dream home."
Getting a mortgage in Spain is in many ways similar to obtaining one in the UK, with a similar level of paperwork required, according to Kevin Monger of Mortgage Direct. Risk assessment tends to be carried out on a debt-to-income basis, a model that is beginning to be adopted by UK banks as well. Spanish mortgages can be taken out up to the age of 75. Monger comments,
"We have seen a dramatic reduction in mortgage interest rates this year, where foreigners are now being offered very similar rates to Spanish nationals. The banks here have a renewed appetite for lending to non-residents who wish to buy holiday homes or move to Spain."
Bargain property prices are also tempting foreigners, with Kyero listing attractively priced homes in all areas of Spain. From a townhouse with pool in Almoradi (Alicante) for €79,500, to a country home with plunge pool and river views in Comares (Malaga) for €94,950, the site showcases the best of Spanish property in every price band.
At the top end of the market, those with around €48 million to spend can bag themselves a 237 room frontline beach hotel in Estepona with direct beach access. While getting finance for a property of this stature might prove tricky, certainly mortgages for more reasonable amounts are proving extremely appealing in Spain right now.
The Overseas Guides Company's latest Quarterly Index has shown that enquiries from individuals wanting to by property abroad have increased 17% since last year. With around 24% of all enquiries relating to it, Spain remains the most popular destination covered by the Index. With the market picking up in 2014, all eyes will be on 2015 to see how fast the positive trends take hold.
For more information and to keep up to date with the latest in Spanish property trends, visit kyero.com.