Bone Daddies bring ramen, buns and Rock 'n' Roll to Kensington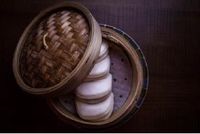 Two years on since the ramen boom of 2012, when Bone Daddies Ramen Bar arrived in Soho with a bang, London's hunger for ramen shows no signs of waning. As a surge of imported ramen brands besiege the city, the third restaurant from the Bone Daddies team has is now open, to every ramen-addict's delight. Ross Shonhan, chef proprietor of Bone Daddies Ramen Bar and Flesh & Buns, Covent Garden, has launched Bone Daddies High Street Kensington, located within Whole Foods Market at 63-97 Kensington High Street. For the first time, Shonhan's signature ramen and buns appear on the same menu.
Bone Daddies High Street Kensington can be found on the first floor of the Whole Foods Market and encompasses its own service and dining area with a subtle urban feel to the design. The restaurant is open all day, from 11am, for lunch and dinner within store hours and incorporates a bar and original cocktail menu.
Fans of both Bone Daddies ramen and Flesh & Buns will be satiated with favourite dishes from the two restaurants appearing on the new menu at Bone Daddies Kensington, alongside new signature ramen bowls such as Curry Ramen and new styles of Tonkotsu. A hearty snacks menu offers tasting dishes including Yellowtail Sashimi with chilli, ponzu and coriander, Soft Shell Crab with green chilli ginger sauce.
Steamed buns appear on the menu as 'tiger eating...' owing to the appearance of the folded bun. Tiger eating chilli chashu pork, and Tiger eating prawn, are served assembled, as opposed to DIY style as at Flesh & Buns. As a first for Bone Daddies, and typical to the ramen bars of Japan, gyoza is also available, with fillings such as chicken and prawn and pork and truffle, alongside snacks such as chashu pork, jalapeño and cheese croquettes. To finish, desserts include chocolate fondant with green tea ice cream.
Ross Shonhan comments, "Bone Daddies High Street Kensington is an honest, no nonsense, accessible approach to the various casual dining options found in Japan. It made perfect sense to partner with Whole Foods, a brand which, like Bone Daddies, has great integrity when it comes to food and satisfying customers."
The distinctive dining space is filled with Bone Daddies' favoured rock 'n' roll soundtrack and dressed in the signature colours of red, black and white. Designed by SODA. (who currently work with Soho House Group on the 76 Dean Street project), the interior incorporates a striking open kitchen and bar within a 110-cover dining area, and a wall of five metre tall paned windows allows natural light, creating a spacious and airy feel. Fixtures, lighting and furniture have been kept simple, with raw finishes such as steel, bare wood, and corrugated iron creating an industrial feel. The design invokes the energy and simplicity of Soho, whilst remaining in a unique space in Kensington.
Bone Daddies offers High Street Kensington's locals, workers and shoppers a fun dining destination, serving an innovative menu by Ross Shonhan, one of London's pioneers in Japanese cuisine and the one to watch.
W: high-st-kensington.bonedaddies.com
Bone Daddies High Street Kensington
First Floor - Whole Foods Market
63-97 Kensington High Street
The Barkers Building
London, W8 5SE