BBC Radio 6 Music announces its Top 15 Albums of the Year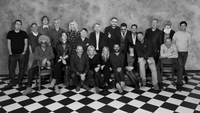 BBC Radio 6 Music has announced its No.1 album of the year, as voted for by the network's presenters and teams.
Since 1 December the station has been counting down the Top 15 Albums of the Year, as chosen and voted for by 6 Music's presenters and production teams. Shaun Keaveny has been leading the countdown, revealing the name of the album each day on his Breakfast Show, accompanied by interviews with each act by music news presenter, Matt Everitt. These interviews are now available to listen to at bbc.co.uk/6music
Also on the website is a dedicated page for each album, a selection of archive sessions from the band/artist plus a BBC Playlister page that features three tracks from each record.
There will also be a Sunday Lunchtime Special on Sunday 28 December, 1-2pm, that will feature a track from all of the Top 15 albums, and will include contributions from 6 Music's presenters saying what they loved about their chosen record.
The Top 15 Albums
1 The War On Drugs - Lost In The Dream
Mark Radcliffe says: "A 'proper' album where one track just effortlessly drifts into the next. It's an introvert's take on classic rock with echoes of Dylan and Springsteen but all wrapped in a blissful, slacker's haze. Over the summer it accompanied me on more or less every journey I took. And what a summer it was. It seems like a dream now but a dream that recurs every time I put the album on. I keep coming back to the same word. Blissful."
2 St Vincent - St Vincent
Stuart Maconie says: "It's a brilliant brilliant, idiosyncratic unique piece of work. She does something that I always love in records, there's an art streak and a pop streak. You can hear she's steeped in sleek 80's pop like Madonna and Prince. But there's another quirky arty thing coming through. She seems to be a unique act at the moment really. Brilliant guitarist, brilliant songwriter and brilliant singer. It's refreshing and sparkling."
3 First Aid Kit - Stay Gold
Liz Kershaw says: "This record came out in June, just in time for a long hot summer of fun. It was on in my car all the time, with the wind in my hair and my ear full of the stunning, searing girlie harmonies. When I interviewed them on my show, I realised their harmonies are due to the fact that they're so close. Like the Everly Brothers and loads of other sibling combos down the decades, there's something in their genes that just makes their voices gel. I'd have never have guessed they were from Sweden, they sound like they're from Nashville or somewhere south of the Mason-Dixon Line."
4 Kate Tempest - Everybody Down
Huey Morgan says: "It's one of those records, some artists can do it and some can't. She's one of those artists that will keep on doing it into the future. This is a concept record that I find really moving and uplifting and insightful and quintessentially her. Theme From Becky is one of my favourite records out there. I want you all to wrap yourselves around Kate Tempest and her music. She's fantastic."
5 Sharon Van Etten - Are We There
Gideon Coe says: "It's a record that came out at the beginning of the year, and that can count against it when it comes to things like an end of year poll such as this one. It's a follow-up to an album I loved (Tramp), and I think I love this one even more. Why? Because the song writing is great, it's an emotional record, it's an involving one, it has moments of melody and harmony and use of brass and woodwind. Over and above, it's a beautifully produced album from start to finish."
6 Caribou - Our Love
Lauren Laverne says: "I've always loved Dan Snaith's music and this record is a real example of why he is so brilliant at what he does. Electronic music is often seen as quite cerebral and chin strokey and a lot of the chat around Dan's music is that he has a PhD in Maths and he's seen as this very intense intelligent guy. He is very intelligent, but he wears that so lightly and what I love about this record is that it's such an emotional album, an opposite to the clichés that people often have about dance and electronic music. It's lyrical and gentle. When he came in for a session he told me it's all about the different loves in his life. I think even if you don't know that when you hear it, it makes you appreciate it even more, but if you just want to dance to it you can do that too."
7 Royal Blood - Royal Blood
Steve Lamacq says: "It's so thunderous. One of the things I like is that it is a set of songs. We talk about albums hanging together as albums, but this is a great rounded rock record. The force and power when the two of them get together, for a debut record it's really intelligently done. There's a lot more going on than some people give it credit for."
8 Jack White - Lazaretto
Shaun Keaveny says: "Jack White's Lazaretto is one of my personal favourites of the year, which is no surprise to people who know me and listen to the programme, because it is whorey old raw rock and roll blues. It's absolutely brilliant from start to finish to be perfectly honest. There are some standout tracks on it. You've got Three Women on there which is a little bawdy as well, which we all enjoy, especially in the mornings. There's fantastic instrumental High Ball Stepper. Lazaretto is a very ambitious work I think, there's some nice fiddle in there as well, and as you get with a lot of latter Jack White stuff, it's almost tending towards a bit of Prog really, meandering in a different time signature and direction. It's a wonderful piece of work and I thoroughly enjoyed it."
9 Elbow - The Take Off And Landing Of Everything
Don Letts says: "I was hooked musically and lyrically to this. I'm hooked to an outfit that have consistently released albums that strike an emotional accord and are also complete bodies of work - a rare thing these days. They're one of the UKs finest bands. As for stand out tracks, one, two three, four, five, six, seven, eight, nine and ten. Guy and crew, the Don salutes you."
10 Beck - Morning Phase
Matt Everitt says: "So there are plenty of Becks. There's sampling post-modern Beck, folk Beck, funk Beck, ironic Beck, pop Beck and dark, acoustic Beck. On Morning Phase - his first album in six years - we get classic singer/songwriter Beck. Aside from his ability to absorb and reinterpret a myriad of styles, his just writes great songs. There's this warmth and beauty to every song. Heart Is A Drum, Say Goodbye and Country Down slowly wind into your brain like looping trails round California hills – following Beck's gentle vocals and some gorgeous orchestral arrangements. It's introspective without being introverted, cool without being self-conscious, and it just sounds a classic timeless record. Which is what it is."
11 Future Islands - Singles
Tom Ravenscroft says: "It's sexy as hell! I think that's the most important thing about the album. It finally got them the recognition they deserve. Everybody is finally noticing them, they're playing loads of festivals and people are starting to appreciate the magnificence that is Future Islands. Everyone is getting to see the awesome dancing of Sam T Herring. The track Light House just makes you get up and dance."
12 Tune-Yards - Nikki Nack
Mary Anne Hobbs says: "I love Tune-Yards because she's been so honest about how she felt and the kind of condition she was in. She's reinvented herself as an artist and a woman too. She recorded the album in the moodiest of neighbourhoods in the sweltering summer heat. I think it's one of the most unique and vital, most colourful records of the year, and she's backed that up with truly heart stopping live performances."
13 Liars – Mess
Tom Robinson says: "It's their most polished, oddest and their most accessible record yet. When they recorded a session in Maida Vale for 6 Music they laid down half a dozen storming tracks in just half an hour. Consummate professionals, they turned into wild howling electro beasts and then into softly spoken Californians each time the red light went on and off. It's an album to make you dance, smile and scratch your head and wonder what planet these guys are on."
14 Todd Terje - It's Album Time
Nemone says: "I've loved playing this on my Electric Ladyland show. From the elctro-swing sounding Svensk Sås through the epic electronic ballad he made with Bryan Ferry on their called Johnny and Mary to the singles Delorean Dynamite and Inspector Norse which winds up the album, this is an absolute triumph."
15 Alt J - This Is All Yours
Chris Hawkins says: "This is a beautifully crafted album. Hunger Of The Pine features an unlikely Miley Cyrus sample after an unlikely friendship was struck. The album, I think, is unique. It's delicate at times and precise. It stirs to become a rousing wall of cacophony. It demonstrates the skilled musicianship of a band keen to push boundaries and make new ground. It made the Billboard Top 5 in America and went to Number 1 in the UK. Not such a difficult second album for Alt J then."
BBC Radio 6 Music is an interactive digital radio station that celebrates the alternative spirit of music and culture, bringing together the cutting-edge music of today and the iconic and ground-breaking sounds of the past 50 years. The network currently has a weekly reach of 1.99 million listeners and is home to respected music presenters including Shaun Keaveny, Marc Riley, Lauren Laverne, Mark Radcliffe, Liz Kershaw, Stuart Maconie, Steve Lamacq, Tom Robinson, Tom Ravenscroft, Huey Morgan, Cerys Matthews, Don Letts, Guy Garvey, Iggy Pop and Craig Charles.