Busaba Eathai at The O2 is now open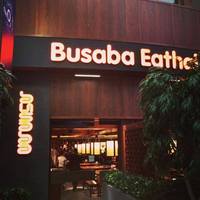 Busaba Eathai has just opened its 12th site at The O2. Busaba Eathai's fresh and prompt service style is perfectly matched to The O2 event visitor profile. Dishes are delivered swiftly to the table as a one-course dining experience, devised to feed guests with minimum fuss.
The opening was celebrated with a traditional Thai monk blessing ceremony, with five monks invited to bless the space and enjoy a shared meal.
The new site has a total of 182 covers and the team have introduced some new design elements including a heated Thai-style terrace (24 covers), a statuesque spiral staircase and mezzanine private dining room (30 covers). The private dining room allows guests to book a private space whilst benefiting from the vibrant atmosphere of the main restaurant. Guests in the private dining room have the choice of three set sharing menus served in the traditional communal Thai style, ranging from £19 to £32 per person.
Executive Chef Jude Sangsida has also introduced a new set lunch menu called the 'Sanuk' menu (Sanuk means 'to enjoy' in Thai). It includes a selection of Jude's most iconic dishes such as Pad Thai; Ginger beef; Thai calamari and Chicken satay. It is priced at £9.90 and includes a main and side dish, and is available for lunch on non-event days.
Busaba Eathai's CEO Jason Myers commented, "We are delighted with the newest Busaba. It brings together all of the magic of its predecessors, along with some exciting new design features. At its heart it is focused on delivering fresh, fast and delicious Thai food which is at the core of everything we do."
busaba.com