January Dough-nanza - PizzaExpress helps us battle the winter blues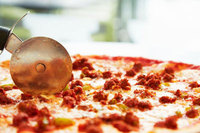 PizzaExpress is offering the perfect antidote to the winter blues with a January dough-nanza that has something for everyone. Whether you're looking to treat yourself on a budget, enjoy delicious, guilt-free, skinny pizza, or simply indulge in some heart-warming comfort food, PizzaExpress has all the right ingredients this month.
Biggest Ever January sale
PizzaExpress is making its customers' dough stretch further than ever before this January. From Tuesday 6 January, for a limited period, customers will be able to enjoy a starter and a main for only £10 at any PizzaExpress restaurant across the UK. Starter options include a choice of PizzaExpress' iconic Dough Balls, Garlic Bread or Garlic Bread with Mozzarella; plus a choice of a Classic or low-calorie Leggera pizza, pasta or salad. Customers can upgrade from a Classic pizza to a Romana base, or enjoy a Calabrese pizza for an additional £1.55 per pizza*.
Anyone who misses out on this offer needn't worry as customers can download a 40% off food voucher, valid from 4 – 18 January, and another valid from 19 January – 1 February. And dedicated pizza lovers can make this offer last long into February by picking up another 40% off food voucher with their bill when eating at PizzaExpress throughout January.
Details of PizzaExpress' freshest offers can be found at pizzaexpress.com/latest-offers/. In addition, throughout the month there will be giveaways through Facebook and Twitter.
And If All Else Fails… Comfort Food
PizzaExpress' winter menu will warm hearts as well as stomachs this January with a host of new dishes. Apart from the welcome return of Dough Balls Formaggi (melt-in-the-mouth cheesy Dough Balls), a Carbonara pizza has joined the menu, combining the comforting flavours of this famous pasta dish with the ultimate comfort food – pizza. New desserts include a Honeycomb Cream Slice featuring a light cream layer of salted caramel, honeycomb and chocolate pieces and a crumbly biscuit base.
Say Yes To Guilt Free Pizza
Dieters are in for a treat with more low-calorie Leggera options than ever before. From five pizzas that all contain fewer than 500 calories, to satisfying salads, a tasty starter and even diet-friendly desserts, it's now possible to enjoy two courses for just 380 calories or three courses for fewer than 580 calories**.
*Calzones are excluded from this offer.
**Two courses (main and dessert) based on Leggera Superfood Salad (294 calories) and Leggera Lemon Sorbet Dolcetti (84 calories excluding choice of coffee). Three courses includes Leggera Gamberretti Piccante (200 calories).