Celebrate Chinese New Year at Hutong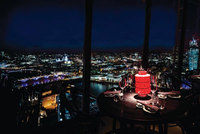 Following the success of last year's Chinese New Year celebrations, award-winning Northern Chinese restaurant, Hutong, will again be celebrating on 19th February with a host of exciting events drawing inspiration from many Chinese traditions. The festivities will begin with a traditional Reunion Dinner, held on New Year's Eve, Wednesday 18th February. The celebrations will culminate on 19th February with a special 'Double Happiness' set menu priced at £88, 8 being considered the luckiest number in Chinese tradition. Hutong will also be 'cleaning the restaurant' in preparation for the New Year. All of the red lanterns will be re-hung to signify a new start and to bring good luck for the year to come.
Traditionally, the Reunion Dinner, held by families to celebrate together and bring luck for the year ahead, is a generous feast with a fish centrepiece. Priced at £68 per person at dinner only, Hutong's menu will feature five courses including Steamed cod with Sichuan peppercorn and Aromatic beef rib braised in lotus leaf.
The 'Double Happiness' menu will feature the customary Lo Hei mixed raw seafood salad (salmon, yellow tail, shredded abalone tossed with assorted vegetables and sweet plum sauce). The origins of Lo Hei date back more than 750 years to the days of the Song Dynasty when fishermen along the coast of China would celebrate the seventh day of Chinese New Year, known as Renri or 'everyone's birthday', with this fresh fish and diced vegetable dish. The most important (and fun) part of eating "Lo Hei" is the mixing together of the ingredients; to ensure good luck for the coming year, everyone calls out "Lo Hei" which means "to mix it up" but also sounds like " to prosper more and more", while tossing the ingredients high into the air.
The menu will also include: a selection of dim sum dishes; Hutong's signature Red Lantern soft shell crab; Boneless Dover sole braised in coriander-vinegar sauce; Crispy de-boned lamb ribs; Chicken fried with Sichuan dried chilli; Wok-fried kai-lan with ginger sauce; and Lotus leaf-wrapped rice with egg white, crab meat and scallions. Dessert will be Hutong-style mango cheesecake.
The special dinner will be accompanied by a traditional lion dance, to ward off nian or evil spirits, as well as Chinese musicians and noise-makers. Hutong will also offer special Year of the Goat wishing cards and the traditional candy box. Another tradition which Hutong will be adding their twist to, is the giving of red envelopes filled with money. Each table will be given a red envelope with their bill which will contain a gift courtesy of Hutong, and in one lucky table's case, their entire bill will be complimentary!
The festivities will also extend to Hutong's bar, where bars manager Myles Donneky has created a range of special Chinese New Year cocktails including a unique Baiju cocktail which will form part of Baiju Cocktail Week. Baiju - which means 'white alcohol' - is a distilled white spirit, 52% proof. It is brewed using ancient techniques with fermented grains. The spirit has a unique and aromatic nose and palate. Baiju has been regarded as a drink to mark celebrations and strengthen bonds for thousands of years. The spirit is hugely popular within the Chinese community and is now starting to make its mark on the UK market.
Hutong opened on Level 33 of The Shard in June 2013, and in this short time, has received critical acclaim from the press as well as winning a number of prestigious awards including being named in the National Restaurant Award's Top 100 list. For the second year, Hutong's Chinese New Year celebrations promise to be the most spectacular celebration in London.
Aqua Restaurant Group
In 2000, David Yeo, a Singaporean-born, British lawyer was encouraged by friends to open a restaurant as his entertaining at home was so enjoyed. David opened a simple 60-cover kitchen, which was a runaway success. Aqua Restaurant Group now has 23 restaurants across Hong Kong, Beijing and London, where their first UK site on Regent Street opened in 2009. David is the creative director of the group, conceptualising and carefully balancing excellent food with stunning design and approachable service. He strongly believes in accessible and approachable restaurants, which is why, when he chose the name of his first restaurant, aqua, he went back to the basic element in cooking - water. At the same time, a trip to Cairo introduced him to the ankh, the symbol of life in Ancient Egyptian mythology. This is how the 'q' of the aqua logo became a stylized ankh and the Group's motto became "where there's water there's life". In 2012, David Yeo was named Asia Pacific 'Restaurateur of the Year' by the prestigious World Gourmet Series.
To make a reservation, visit hutong.co.uk.