Scanning the horizon - what does Spain hold in store for 2015?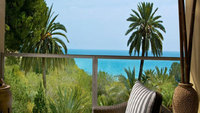 Tourism in Spain contributed 11.7% to the economy in 2013, according to the latest data from Market Research Reports, with total tourism output reaching €191.5 billion. And as 2014 draws to a close it looks certain that those figures will be pushed even higher thanks to a record-breaking year.
"It's been a fantastic year for Spain," comments Marc Pritchard, Sales and Marketing Director for leading Spanish homebuilder Taylor Wimpey Espana, the Iberian arm of the UK's Taylor Wimpey, which has just re-entered the FTSE 100.
"We've seen resorts across the country receive record numbers of visitors, with the lure of Spanish sunshine tempting many to come here for their holidays. One of the great things about Spain is its mass appeal – whether for singletons, couples, families or retirees, Spain has something to offer everyone."
One of the country's most popular areas is the Costa Blanca, where Taylor Wimpey Espana's La Vila Paradis offers luxurious apartments with a communal pool and stunning beachfront location from as little as €229,500. Excellent restaurants, beautiful beaches and glorious sunshine abound in the area, helping to drive up visitor numbers over the course of the year.
Those looking for even better value for money will be wowed by La Recoleta, where two bedroom apartments just a few metres from the beach can be picked up for an astonishing €142,000. Sea views, private gardens and a communal pool perfect the development.
Nationally, tourism had an excellent year. Overnight stays at Spanish hotels were up 5.1% in October compared with the year before, reaching a total of 26.2 million according to the latest figures from the National Institute of Statistics (INE). Meanwhile, the Ministry of Industry, Energy and Tourism reported record tourist spending of €56,374 million between January and October.
"There's a feeling here that while 2014 has been good, 2015 is going to be great," Pritchard continues. "Spain still has some way to go in sorting out its finances, but there is much more of a feeling of positivity about the economy than there was this time last year."
Indeed, the latest projections from the Foundation of Savings Banks (Funcas) show the economy as growing by 2.4% in 2015, an increase on the previous estimate. The global reduction in the cost of oil is cited as one of the key reasons, as it lowers production costs and increases the money available to individual Spanish families.
Those overseas will be feeling the same effects and for many 2015 may well be the time to invest in that much-longed-for second home in the sunshine. Those looking outside of mainland Spain will find some wonderful property options on the sun-kissed island of Mallorca. One of the best is Taylor Wimpey Espana's Cala Magrana III development, with two bedroom properties packed with designer fixtures and fittings available from €230,000. The site includes a lovely communal garden with swimming pool and is just 600 m from Cala Anguila beach, with golf courses and Porto Cristo marina also nearby.
As the New Year rolls in and the excesses of Christmas make way for planning and preparing for the new year ahead, many will be thinking wishfully of a week or two in the sunshine – and Spain will no doubt be top of many wish lists. With visitor numbers and spending already on an upward trend, it looks like the future of the tourism industry in Spain could be bright indeed.
For more information, visit taylorwimpeyspain.com.