Kick start the new year with Tredwell's and BoBo's Juicery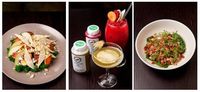 Throughout January, Tredwell's will be teaming up with cold-pressed, organic juice and smoothie company BoBo's Juicery, to offer a range of healthy cocktails and dishes to help health concious diners kick start the new year without missing out.
Tredwell's will be serving the specially created cocktails alongside its regular cocktail list, for those looking for a healthier alternative this January. Made from a base of BoBo's juices, which are packed full of fresh, organic ingredients, the cocktails will include the Strength giving Gimlet (gin, ginger, pineapple, wheatgrass) and the Hail Mary (vodka, beetroot, carrot, coriander, fennel, lime, parsley, Worcestershire sauce, Tabasco, and celery stick to garnish).
Tredwell's will also be serving a range of specially created salads which will change each week throughout January, priced at £7 for a starter size and £12 for a main size. These will include: Perfect Pair (pear, roasted parsnip, kale, cashew and rosemary salad); Qui to Good Health (quinoa, spinach, goji berry, turmeric and toasted almond salad); Sweet P (sweet potato, cucumber, celery, coconut, parsley); and Open Sesame (sprout, celeriac, carrot, tahini, sesame seeds, mint).
Aside from the collaboration, Tredwell's regular menu features a wide range of lighter dishes, catering for all dietary requirements and allergies with many of the dishes also championing superfoods. Head chef Andrew Ward has created dishes such as: slow cooked salmon, spirulina and cauliflower; and Chop chop salad – radicchio, shallot, pear, chestnut, beetroot, Bresaola; and kale slaw. Guests are also able to indulge in a sweet treat with the Virtuous chocolate brownie served with coconut yoghurt, which is made with no wheat, dairy, eggs or refined sugar and is vegan friendly – or as some may call it, a miracle!
Tredwell's, which is the latest project from Marcus Wareing Restaurants, offers an informal setting for diners to enjoy Modern London cooking.
Founded by Jo Symes in 2013, BoBo's Juicery offers cold pressed juices, smoothies, alkaline based healthy salads and treats for busy people. BoBo's juices are available to buy from bobosjuicery.com, The Grocer on Elgin and King's Road, Deliveroo & Hubbub.
bobosjuicery.com
tredwells.com