Castellon tipped to become Spain's 2015 property hotspot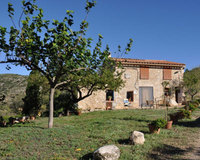 With its 'ghost airport' now officially up and running, the eastern Spanish city of Castellon is tipped to be the property hotspot of 2015, according to leading Spanish property portal, Kyero.com.
Offering a charming old town packed with historic buildings and a pretty Mediterranean coastline, Castellon de la Plana is a city with a rich history. In 2011, it should have been propelled onto the global holidaymaker trail when its brand new airport opened, but the global economic downturn meant that not a single scheduled passenger service ever left or arrived at Castellon airport.
For more than three years, Castellon airport operated nothing more than general aviation services and the occasional charter flight, but December 2014 saw it finally granted authorization to start handling flights.
Martin Dell, Director of Kyero.com, which lists over 175,000 Spanish properties from 2,500 estate agents, believes the move will trigger a great deal of interest in the eastern city.
Kyero's buyer enquiries certainly support the idea and reveal precisely what it is that buyers are looking for in Castellon. Interestingly, it is the French who seem most interested in Castellon at this early stage in its entrance onto the global stage. Enquiries from French buyers account for 48% of the total, followed by English buyers at 30%.
When it comes to property type, homes in the €50k-€100k price range attract some 36% of enquiries, followed by homes under €50k (with 30% of enquiries). 61% of buyers are looking for apartments and 39% want three bedrooms, closely followed by 34% wanting two bedrooms.
Martin Dell comments, "Castellon is one of Valencia's most interesting cities and largely unknown up until now. The opening of the Castellon airport is likely to see a localised property boom, with prices rising and international interest in the area really taking off.
"As well as the city of Castellon itself, nearby Peniscola, Vinaros and San Jorge also look set to benefit from Spain's ghost airport finally gearing up to receive the international jets for which it was built."
The rise of Castellon is certainly bound to pique the interest of property investors looking for Spain's hottest investment location in 2015. Many will want to act quickly, before Castellon is 'discovered' by too many more people. This traditional country house, with three bedrooms and generous plot of land, just 24km from the coast, costs just €160,000, while this modern Peniscola penthouse with pool and sea views is on the market for €199,950.
As the story of Castellon airport unfolds over the course of 2015 and travellers start discovering this delightful coastal city, it will be fascinating to see how the property market there flourishes now that the ghosts of the past have been banished to the history books.
For more information and to keep up to date with the latest in Spanish property trends, visit kyero.com.