Get snappy at home - and you could win a camera!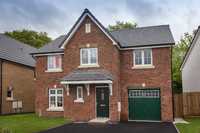 Housing developer Lovell has launched a new photo competition giving you the chance to win a camera – by sending in a snap of your favourite view from your home.
"We want to see what inspires you when you're inside your home and looking out," says Kate Rees, regional sales manager for Lovell, the company behind the popular Maes y Deri development at Llangynnwr, Carmarthen.
"It might be the sight of your children playing in the garden, birds on a feeder, a well-known local landmark or a sensational sunset. We'd love to see it too – and hear why it means so much to you. We are really looking forward to seeing what people choose."
The sender of the winning competition image will receive a GoPro Hero4 Silver digital camera. Lovell Homes will post the winning photograph, plus runner-up entries on its website and social media pages after the competition closing date.
To enter, simply send us your picture plus a 100-word description of what inspired you to take it and what makes it special to you. Email your photograph to twitter[at]lovell.co.uk using 'View from your home competition' as the subject line.
Pictures should be no more than 300dpi, between 1MB and 3MB in size and must be sent as a JPEG file. Don't forget to include details of where the picture was taken and no more than 100 words about why this is your favourite view from your home, as well as your full name, address, telephone number and email address. The competition will run until 23 January 2015.
More details, including full terms and conditions, are available at lovellnewhomes.co.uk/campaign/view-from-your-home-photo-comp
Lovell has a small number of three- and four-bedroom homes still available at its Maes y Deri development at Llangynnwr, which enjoys a fantastic location on the edge of the Llangynnwr Community Park and just a mile from Carmarthen town centre. They include the three-bedroom, semi-detached Pendine house style, with parking, which starts at a Help to Buy – Wales price of £141,596 (full sale price £176,995). Lovell's four-bedroom detached Solva house type, with single garage, is also available starting from a Help to Buy – Wales price of £207,996 (full purchase price £259,995). The show home and marketing suite at Maes y Deri, Llangynnwr, Carmarthen SA31 2JZ are open on Monday, 11am to 5pm, on Tuesday to Saturday from 10am to 5pm, and on Sunday from noon to 5pm.