Hard Rock calls on artists to participate in Hard Rock Rising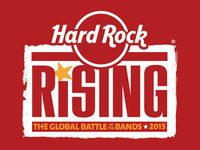 For the fifth straight year, Hard Rock continues its commitment to aspiring musicians by holding a worldwide search for talented bands to showcase on its international stage. Hard Rock Rising, the world's most far-reaching battle of the bands competition gives local groups a shot at stardom with an all-expenses paid trip to Barcelona, Spain to compete for the chance to perform at the first-ever Hard Rock Rising Barcelona Music Festival this summer!
"At Hard Rock, music is the heart and soul of everything we stand for, and we can't wait to welcome new talent to our international stages through this year's Hard Rock Rising program," said John Galloway, Senior Vice President and Chief Marketing Officer for Hard Rock International. "Since 2010, Hard Rock Rising has been a staple of our live music program, and attracts more than 15,000 bands annually. We look forward to supporting promising artists in hopes of exposing them to new fans and opportunities to enhance their music careers."
Hard Rock has partnered with ReverbNation - the global leader in providing independent musicians tools to manage every aspect of their careers to host ots annual Hard Rock Rising competition. Registration is now open for bands wishing to participate in the international battle, closing on Monday 26 January. Hard Rock's iconic brand and dynamic live music program and ReverbNation's unique platform, curation capabilities and extensive community of more than 3.8 million artists in 250 countries worldwide, emerging and undiscovered talent is the perfect platform to catapult the music careers and expose themselves to Hard Rock's global audience.
"ReverbNation and Hard Rock share the same commitment to discovering new musical talent, and we both strive to provide independent musicians with meaningful opportunities to achieve their career goals," said Mike Doernberg, CEO of ReverbNation. "The Hard Rock Rising program supports our Artist First mission, showcases our unique curation capability, and provides the perfect platform to offer a world-class experience to the best new artists."
The Battle to Take the Stage in Barcelona
Bands can visit HardRockRising.com to register to compete in the global battle. Bands must originate from within a 100-mile radius of a Hard Rock location in order to participate. Following open registration, bands that have entered will receive a unique URL to encourage their fans to vote. Fan voting will not be limited to a specific market and fans can vote for multiple bands located in any participating city. For full rules and a list of participating locations, visit HardRockRising.com.
Bands with the largest number of votes in their cities will take the stage at participating Hard Rock locations around the world for a series of live battle events. One winner will be selected from each location by a panel of local industry judges. The winning band from each location will receive a prize of $1000 and move on to the regional phase of the competition.
A panel of international music industry professionals will then review the city winners to determine regional winners. Each of the regional winners will receive an all-expenses paid trip to Barcelona, Spain to perform at Hard Rock Cafe Barcelona for the final live battle event. The overall winner will perform on the main-stage at Hard Rock Rising Barcelona!
Committed to supporting music and emerging artists around the globe, Hard Rock International hosted more than 28,000 live music events worldwide in 2014. The brand continues its dedication to support of up-and-coming artists in 2015 with the Hard Rock Rising Battle of the Bands, providing a forum for today's hottest new talent.