British love for Aruba reaches all-time high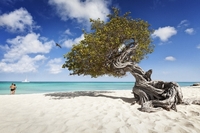 British holidaymakers' growing love affair with Aruba continues to develop as the Dutch Caribbean island celebrates all-time high visitor numbers in 2014.
Official statistics just released show a record number of UK travellers headed to the sun-drenched island last year, while internationally a milestone was reached with more than a million arrivals in a year for the first time.
UK numbers grew by more than 12 per cent in 2014, topping the 10,000 mark for the first time. In addition to the 10,447 UK visitors, there was a 34 per cent growth from Ireland.
The Aruba Tourism Authority's UK Manager Joanna Walding commented: 'We are delighted that Aruba continues to appeal so strongly to the UK and Irish markets. We have had great support from airlines and the UK travel trade which, combined with Aruba's natural appeal and the high standards of hotels and customer service on the island, clearly provides the right formula for attracting growing numbers of tourists.'
Meanwhile, Aruba more than lived up to its nickname One Happy Island as it celebrated record international visitor numbers in 2014, with figures breaking through the one million mark.
Confidence is high that the destination will continue to develop its appeal to the UK market in 2015, helped by the news that leading brands Thomson Holidays and First Choice are to operate for an additional month this year. Their joint charter flight from London Gatwick will serve Aruba through to November 17, rather than ending its season in October as in previous years. They operate the route with the 291-passenger Boeing 787 Dreamliner, offering a range of accommodation choices.
In addition, KLM Royal Dutch Airlines flies to Aruba five times a week, offering departures from 16 UK airports, putting the destination on the doorstep of thousands of travellers.
For more information about Aruba, go to aruba.com.