World's Opal capital celebrates centenary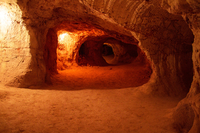 Coober Pedy, South Australia's quirky, idiosyncratic opal mining town, which CNN named as one of its top ten destinations to visit in 2015 will spend the better part of 2015 celebrating its centenary.
Located 846 km north of Adelaide on the Stuart Highway, Coober Pedy has over 70 opal fields producing the majority of the world's quality opals. In summer, Coober Pedy also boasts temperatures of 35 degrees in the shade which is why the local population adapted to the heat by building subterranean homes, shops, restaurants and even a Serbian Orthodox church.
Arrive in style on The Ghan. Coinciding with the centenary, the iconic cross continental Ghan train, which traverses Australia linking Adelaide and Darwin, has launched a new four-day/three-night service which includes for the first time a full day tour of Coober Pedy (available 23rd May – 22nd August 2015).
Did you know?
On 1 February 1915, 14-year old gold prospector William Hutchison discovered opal whilst searching for water south of Coober Pedy.
Coober Pedy's grassless golf course is twinned with St Andrews.
The town is featured in the film, Priscilla Queen of the Desert.
One of the highlights for visitors is sleeping in an underground hotel or "dug out", the most famous of which is the Desert Cave Hotel.
Visitors can try their hand at 'noodling' – the process of searching through heaps of discarded 'mullock' for pieces of opal missed by the miners. Many locals make a living off this method.
The town boasts a multi cultural population made up of some 45 nationalities.
Centenary 2015 highlights:
Time a visit to coincide with the following celebrations.
Centenary launch, 1 February – Mark history with a brunch gathering held at the Coober Pedy Golf Club to commemorate Willie Hutchison's fateful find. Be sure to make time to play a round at the world's hottest golf course.
Centenary Street Party & Multicultural Celebrations, 2 April – Take to the streets for fun, food and live music as Coober Pedy celebrates its diverse heritage.
100 Year Ball, 3 April – Guests are invited to dress in their culture's traditional attire and take part in icebreaker games to explore their nationalities, heritage and culture.
Coober Pedy Opal Festival, 4 April – Join the locals in celebrating the end of a long hot summer and the commencement of a prosperous opal mining season, with a street parade, fireworks and live music.
Other regular annual events include The Great Breakaways Marathon on 23 May and quirky horse and motorbike event, Coober Pedy Races & Gymkhana on 8 & 9 August.
For more information visit cooberpedy.sa.gov.au/tourism.