Best exchange rate for 8 years prompts Brits to snap up bargain second homes across Europe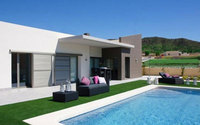 With the euro at an eight-year low against the pound, can we expect Brits to rush out and grab that bargain second home in the sun that they have dreamed of for so long, or have we become more cautious of the market's fluctuations since the crash of 2008?
"Definitely the former," says Martin Dell, Director of leading Spanish property portal Kyero.com. "We're seeing British buyers eyeing up cut-price properties across Spain in high numbers right now, as they can get so much more for their money than they could a few years ago. But what's interesting is the number of buyers looking to snap up properties with heftier price tags too."
Dell cites the example of a new build three bedroom villa with pool in Benijofar, Valencia, which is on the market for €335,000. At the current exchange rate, it will cost a British buyer £250,000, while back in 2009 it would have cost £310,000.
Such substantial savings are tempting many buyers to see now as the perfect time to invest in a second home, as Marc Pritchard, Sales and Marketing Director of Taylor Wimpey España, observes,
"With the exchange rate looking so favourable, it really is a case of the more you spend, the more you save at the moment. It certainly seems to have got British buyers moving once more when it comes to Spanish property. We are down to just three townhouses left at our Montesol development and two at Calpesol on the Costa Blanca."
Nor is it just Spain that Brits are eyeing up for their bargain dream homes. Portugal is also attracting UK buyers in their droves right now as Chris White, founding director of boutique real estate agency Ideal Homes Portugal, explains,
"The best exchange rate since 2007 is certainly not something that many British buyers are going to pass up on and Portugal is the perfect place to get more bang for your buck. Even for buyers just looking for a good value apartment, rather than a substantial villa, the savings are impressive. Right now we have some luxury, two bedroom apartments in the most sought after area of Lagos, being sold off plan at €225,000. This equated to around £184,500 a year ago, but right now one would cost closer to £168,500."
The exchange rate ripples are even being felt as far into Europe as Albania, where the country's first high-end resort, Lalzit Bay Resort & Spa, is tempting savvy Brits to invest now before the exchange rate starts moving back the other way. Marketing Director Peter Walshe comments,
"Lalzit Bay Resort & Spa is already a great investment under normal circumstances, but with the current exchange rate it offers incredible value to British buyers. We're expecting a very busy few weeks ahead until the rate begins to settle again!"
So will Brits be dashing out to purchase a cut price second home now that they can get so much more for their money? Absolutely, it seems.
For more information, visit:
kyero.com
taylorwimpeyspain.com
lalzitbay.com
idealhomesportugal.com