Monty's Deli to launch pop-up at Old Bengal Bar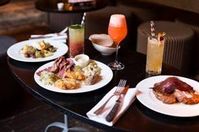 This February, Maltby Street Market's favourite local, Monty's Deli, will be moving north of the river for a month-long residency at Old Bengal Bar, serving an exclusive selection of homemade pastrami, salt beef and new brunch-style dishes.
Owner Mark Ogus set up Monty's Deli market stall on Maltby Street in 2012, and now runs one of the only places in Britain to make its own salt beef and pastrami. From baking bagels to making the mustard, Mark guards his secret, family-inspired recipes closely, and will be setting up shop every Saturday and Sunday at Old Bengal Bar from Saturday 7th February to Sunday 8th March.
Taking residency in Old Bengal Bar, diners will be able to enjoy Monty's Deli's authentic Jewish delicacies, such as the inimitable Mensch: fatty salt beef sandwich with homemade mustard and new dishes such as Monty's French toast: home-baked challah bread topped with a pinch of cinnamon, maple syrup and two candied slices of fatty pastrami. A selection of traditional sides with a twist will also be available, including Sauerkraut, and egg & onion.
Bar Manager, Fabio Da Silva, has created a special pairing cocktail menu to complement Monty's Deli dishes and quench thirst, such as Gondola: Aperol liqueur, coconut water and lemon juice and Ginseng Collins: Ginseng spirit, agave syrup and lemon juice. For a more active alcohol kick try a Bloody Twist (Bloody Mary) or Cocoa & Coffee; a heady mix of vodka, vanilla liquor, dark cacao liqueur and espresso coffee.
Located a stone's throw from Liverpool Street station, Old Bengal Bar is housed in the grade II listed Old Bengal Warehouse. Cosy ox-blood leather banquettes and an intimate outdoor terrace makes it the ideal location to sit back and while-away the weekends with a Monty's Deli salt beef sandwich in tow.
Old Bengal Bar
16 New Street, London, EC2M 4TR
oldbengalbar.co.uk