New season, new menu, new look at Cucina Asellina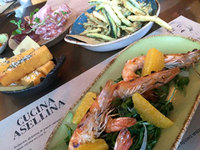 Celebrated Italian restaurant and bar, Cucina Asellina begins the season with a new menu and a new look. The menu consists of regional Italian dishes (all priced under £10) in a warmer, stylish and more relaxed setting. Designed by head chef Stefano Lorenzini and chef director Barry Vera, the menu showcases the core elements of regional Italian cuisine; the best ingredients sourced from authentic producers marrying simple and fresh flavours. The menu offers a selection of; Fritti, Tagliere, Pizzette, Le Specialita della Cassa, Paste, Risotti & Zuppe; Contorni, Carne, Pesce and Dolci. Over 30 dishes are available, all priced under £10.
Signature dishes from the new menu include: Stuffed Cerignola olives, roasted veal, parmesan, semolina crust (£6); Prosciutto San Daniele, black truffle, fontina, rocket pizzetta (£9); Honey glazed rack of lamb and rosemary potatoes (£9); Lobster with fresh home-made tortelloni, cherry tomatoes, fresh basil and martini bianco (£9); Polenta chips with rosemary salt (4); and crystalised ginger panna cotta (£4). For those looking for a lighter option, all pizza bases and home-made pasta are available gluten free on request.
Aesthetically, the bar area in Cucina Asellina has been opened up to create a more informal setting with a cluster of new high-level copper-topped tables, bar stools and banquette seating. The restaurant has been redecorated with a palette of deep aubergine and calming lavender and fitted with further high-level dining tables looking out onto the throng of bustling Aldwych theatres. A more relaxed informal style of service will also accompany the design and menu changes.
The bar offers an extensive, predominately Italian wine list, alongside a selection of 'Classici Italiani' and 'Classici Asellina' cocktails. Speciality cocktails include the 'Pompeii' – gin, moscato, lime juice, elderflower syrup, Chambord and S. German (£11.50) and 'Signorea Asellina' – Belvedere, Limoncello, fresh raspberry and lemon juice (£11). All guests at either the bar or restaurant will receive a complimentary shot of Limoncello and cocktail tasters on arrival. There will also be a DJ performing on Friday and Saturday nights, emphasising the more relaxed atmosphere.
Cucina Asellina takes its name from the legendary Madame Asellina, Pompeii tavern owner was an entrepreneur and cosmopolitan influencer. Above the door of her establishment, a bustling coffee shop, was an inscription that read "Here dwells happiness".
Cucina Asellina is located on The Strand, within the ME London hotel. The restaurant has a capacity for 140 diners and 50 seated/standing in the bar. The Italian community of London has embraced Cucina Asellina and it is now a hub for Italian events and get-togethers.
Cucina Asellina is open Monday to Sunday from 12 noon till late.
Cucina Asellina
336-337 The Strand, London, WC2R 1HA