Viva Espana: What can expats really expect from their new life under the Spanish sun?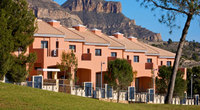 The attractions of a move overseas may seem obvious at first glance – better weather and a lower cost of living are sure to head up the list for many people. But moving to a new country is a bold undertaking and many expats find that despite their best laid plans there are things that they didn't expect about their new country.
Marc Pritchard, Sales and Marketing Director for leading homebuilder Taylor Wimpey Espana, who himself moved from Germany to the Spanish island of Mallorca more than two decades ago, explains,
"Going on holiday somewhere and moving there are two extremely different undertakings. On holiday you only tend to notice the positive points, but when you live there things like bureaucracy and pace of life can show you a very different side to your chosen country of residence."
The HSBC Expat Explorer tool provides some fascinating insights into what Brits who choose to move to Spain can expect as a result of their migration. At a top level, the country comparison tool ranks Spain 24th out of 34 countries based on 2014 results. The UK scrapes in at 33rd position.
Some of the positives about moving to Spain are those one might expect to see. The country ranks 4th out of all those considered for its cuisine, which is both delicious and healthy. It ranks 5th for local shops and markets. For work/life balance, Spain ranks 11th against the UK's 33rd position.
But there are also unexpected benefits. Despite the wonders of the NHS, Spain ranks 12th for healthcare and the UK 19th. Spain comes 11th for social life and the UK 26th. Spain is also 9th for environment, while the UK is 27th.
The Iberian nation scores highly when it comes to expats finding their feet as well, thanks to the welcoming attitude of the locals in many areas and to the large community of expats already settled there ranking 4th for integrating into the community, 8th for adjusting to the new culture/lifestyle and 3rd for learning the local language.
But when it comes to the working world and the economy, expats can expect a rather different picture. Spain ranks 32nd for making people feel welcome at work and 33rd for household income (the UK ranks 24th and 21st respectively in these two categories). Interestingly, though, the lower cost of living means that those in Spain actually have more personal disposable income, with Spain taking 29th position and the UK taking 33rd.
Of course, the only way to really tell what a country is like is to live there for an extended period of time. Taylor Wimpey Espana find that many who purchase their holiday homes do so with a view to using them in the future as retirement properties. This enables them to spend holidays there with family and friends, but also to stay for longer periods before committing to a full move. It's an ideal solution for those considering becoming expats but uncertain as to what they can really expect.
The beautiful townhouses at Brisas de Alenda Golf in Alicante are the perfect properties for those considering a new life in Spain, as well as for second homes. The last remaining townhouses, which are available for €145,000, enjoy a superb location in this exclusive and tranquil area and their spacious terraces, communal pool and pretty communal gardens have been designed with outdoor living in mind. As well as the idyllic golf course, the area boasts a clubhouse, bilingual Spanish/English school and nearby supermarket, all just 15 minutes from Alicante airport.
For more information, visit taylorwimpeyspain.com.