The Royal Crescent Hotel & Spa launches new afternoon tea menu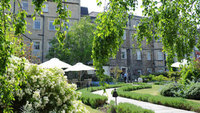 'Taking tea' has been a timeless tradition in Bath since the mid 18th century when it was very much in vogue for the aristocrats and socialites of the Georgian Era to indulge in afternoon tea. Celebrating this English ritual as a symbol of grace and sophistication, as popular today as it was then, The Royal Crescent Hotel & Spa is pleased to announce the introduction of an innovative new afternoon tea menu, epitomising the hotel's ethos of combining old world heritage with new world luxury.
Located at the centre of one of Britain's greatest examples of Georgian architecture, The Royal Crescent Hotel & Spa provides a fitting setting for indulgence in the finest world teas, prestigious Champagnes, exquisite sandwiches and delicate pastries.
Masterfully created by Head Chef David Campbell and Head Pastry Chef, Catherine Lock, the new menu will feature three carefully crafted teas, inspired by the hotel's own history and notable guests of the past. Shaking up the traditions of 'tea time' and elegantly reinventing the English classic, David and Catherine have cleverly created menus to suit light lunches and early evening aperitifs.
The Duke of York Afternoon Tea
Frederik Augustus, The Duke of York and second son of King George III stayed at The Royal Crescent in 1795. Famed for his appreciation of life's finer moments, this decadent tea has been created in his honour. It incorporates strong flavours and masculine savoury dishes such as Bath Chap Beignets (a traditional Somerset dish using pig cheek), Croque Monsieur and Duck Liver Onion Seed and Grape Barquette. Sweets include warm scones and famous Bath Buns best enjoyed with lashings of butter, making The Duke of York Afternoon Tea the perfect choice for a late lunch.
The Royal Crescent Afternoon Tea
David has created this classic English tea as an ode to traditional Afternoon Tea and incorporates the very best local Somerset produce. The menu includes delicately cut finger sandwiches such as Somerset Ham, Crescent House Chutney and Plum Tomato and Royal Crescent Coronation Chicken, whilst sweets include classic British flavours with Strawberry and Champagne Macaroons, Lemon Meringue Pie and Freshly Baked Scones and Bath Buns with Clotted Cream & Strawberry Preserve.
The Elizabeth Montagu Afternoon Tea
For this indulgent tea, David has taken inspiration from one of Britain's most interesting 18th century social reformers and patron of the arts who spent much time at The Royal Crescent. Elizabeth Montagu famously created the informal woman's social and educational movement, The Blue Stockings Society, and held society meetings at the hotel in the 1750's. The Elizabeth Montagu Afternoon Tea offers a selection of more substantial plates, perfect for those looking to while away the afternoon hours into early evening. Spiced Goat's Curd and Lemon Profiteroles, Hot Crispy Kedgeree with Spiced Mango Yoghurt and Strawberry Champagne Macaroons make this an exciting new late afternoon tea experience.
Head Chef, David Campbell comments, 'Taking Afternoon tea at The Royal Crescent is a quintessential part of life in Bath, whether you live here or are visiting this great city. We invite you to come and enjoy Afternoon Tea as much as we enjoy preparing it. Relax and indulge at The Royal Crescent Hotel & Spa where old world charm meets new world luxury.'
The new Afternoon Tea menu at The Royal Crescent Hotel & Spa will be launched on 12th March 2015 and will be available between 1.30pm & 6pm daily (with last sitting at 4.30pm) for £32 per person. A Flight of Champagne can be added to any Afternoon Tea for £17 per person.
Children's Afternoon Tea at £16.50 to include a tuck shop bag (available for children aged between 3-11 years)
Reservations can be made at info[at]royalcrescent.co.uk.