The ultimate playlist revealed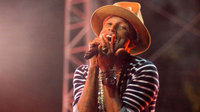 Brits listen to Pharrell Williams to get them out of bed, Taylor Swift while working – and Barry White to get in the mood for some romance, a study has revealed.
Researchers have compiled the ultimate playlist – including songs to listen to on the commute to and from work, at the gym, relaxing and even when going through a break-up.
And it's Pharrell Williams' 2014 hit 'Happy' which is most likely to get Brits up and out of bed, while The Beatles' 'Hey Jude' is top of the list to get you ready for the day ahead during the journey into work.
Queen's 'Don't Stop Me Now' is the song of choice for the commute home from the office while Adele's 'Someone Like You' is mostly likely to be played during a break-up.
It also emerged the average adult spends three hours and 23 minutes a day listening to music – the equivalent of almost a day of each week or seven weeks a year.
Shaun Springer, Head of Brand and Sponsorship, for MasterCard UK & Ireland said: "Everyone's playlist is different but it's fascinating to know the most common songs which we choose to listen to depending on our moods and motivations throughout the day.
With Brits on average listening to a full day of music each week, we are clearly a nation with eclectic tastes and a passion for music.
At MasterCard we want to help our customers access the things they love, so we are hugely proud of being able to support The BRIT Awards for the 17th year."
The study of 2,000 music fans revealed Pharrell Williams' 'Happy' is most likely to be played first thing in the morning, followed by Bill Withers 'Lovely Day', Beautiful Day by U2 and Katrina and the Waves' 'Walking on Sunshine'.
Ed Sheeran's 'Sing' completed the top five, with Avicii's 'Wake Me Up' The Killer's 'Mr Brightside' and Katy Perry's Roar also on the list.
After leaving the house in the morning, 'Hey Jude' by The Beatles is the top choice for the commute into work, along with Dolly Parton's 9-5, Highway to Hell by AC/DC, Mark Ronson's current hit, 'Uptown Funk' and 'Manic Monday' by The Bangles.
But once you get into work, Taylor Swift's 'Shake It Off' is the song most likely to be played in workplaces across the country to get workers in a productive mood.
Other favourites to listen to work include Coldplay 'Viva La Vida', Aretha Franklin 'Respect' and The White Stripes 'Seven Nation Army'.
Survivor's classic 'Eye of the Tiger' was revealed as the best song to listen to at the gym, or while exercising, along with Queen's 'Bohemian Rhapsody', Beyoncé's 'Crazy in Love' and 'Right Here, Right Now' by Fatboy Slim.
The study also found The Eagles 'Hotel California' is the best song to listen to if you want to relax, followed by Adele's debut 'Chasing Pavements', Sam Smith's 'Stay with Me', Dido's 'White Flag' and Oasis' 'Wonderwall'.
Black Eyed Peas' hit 'I Gotta Feeling' is the song most likely to get you in the mood for a night out with friends, while 'You're My First, My Last, My Everything' by Barry White is best to put on when you want to get in the mood for romance.
James Blunt's 'You're Beautiful', Marvin Gaye's 'Sexual Healing' and 'Let's Get it On' and 'Say You. Say Me, by Lionel Richie also feature.
Gennaro Castaldo of the BPI, the trade body representing the nation's record labels that puts on the BRITs every year, comments: "This research shows just how fundamental music is to so many people's lives.
"It's not just the entertainment and stimulation it provides but the extent to which it can shape and reflect our moods and emotions to get us through the day.
"It's great that today's BRITs 2015 winners and nominees will be tomorrow's classic artists, providing us with an extended soundtrack to our lives."
MasterCard is in its 17th year of sponsoring The BRIT Awards, which will be broadcast on ITV1 on 25th February 2015. Fans can visit PricelessSurprises.co.uk to be the find to first out about Priceless Surprises with their favourite artists.
Top ten songs to listen to when you wake up:
1. Pharrell Williams – Happy
2. Bill Withers – Lovely Day
3. U2 – Beautiful Day
4. Katrina and the Waves – Walking On Sunshine
5. Ed Sheeran – Sing
6. Wham! – Wake Me Up Before You Go-Go
7. Avicii – Wake Me Up
8. The Killers – Mr Brightside
9. Cat Stevens – Morning Has Broken
10. Katy Perry – Roar
Top ten songs to listen to on the commute into work:
1. The Beatles – Hey Jude
2. Dolly Parton – 9-5
3. AC/DC – Highway to Hell
4. Mark Ronson feat. Bruno Mars – Uptown Funk
5. The Bangles – Manic Monday
6. The Jam – Going Underground
7. Take That – Shine
8. Michael Jackson – Man in the Mirror
9. Marvin Gaye and Tammi Terrell – Ain't No Mountain High Enough
10. The Rolling Stones – Start Me Up
Top ten songs to listen to while working
1. Taylor Swift – Shake It Off
2. Coldplay – Viva La Vida
3. Michael Jackson – Don't Stop 'Til You Get Enough
4. Aretha Franklin – Respect
5. Lady Gaga – Poker Face
6. The Killers – Human
7. AC/DC – Thunderstruck
8. No Doubt – Don't Speak
9. The White Stripes – Seven Nation Army
10. George Ezra – Blame it on Me
Top ten songs to listen to on the way home from work:
1. Queen – Don't Stop Me Now
2. Fleetwood Mac – Go Your Own Way
3. Snow Patrol – Chasing Cars
4. Black Eyed Peas – Let's Get It Started
5. Coldplay – Paradise
6. Lily Allen – Smile
7. Prince – Purple Rain
8. Tracey Chapman – Fast Car
9. Calvin Harris – Ready for the Weekend
10. George Ezra – Budapest
Top ten songs to listen to at the gym
1. Survivor – Eye of the Tiger
2. Queen – Bohemian Rhapsody
3. Beyoncé – Crazy in Love
4. Fatboy Slim – Right Here, Right Now
5. AC/DC – Back in Black
6. Daft Punk – Harder, Better, Faster, Stronger
7. Florence and the Machine – You've Got the Love
8. Jessie J, Ariana Grande and Nicki Minaj – Bang Bang
9. Eric Prydz – Call on Me
10. Bruno Mars – Locked Out of Heaven
Top ten songs to listen to when relaxing
1. The Eagles – Hotel California
2. Adele – Chasing Pavements
3. Sam Smith – Stay With Me
4. Dido – White Flag
5. Oasis – Wonderwall
6. John Legend – All of Me
7. Beethoven – Symphony No. 9: ode to joy
8. Norah Jones – Come Away With Me
9. All Saints – Pure Shores
10. Pink Floyd – Comfortably Numb
Top ten songs to listen to while getting ready for a night out
1. Black Eyed Peas – I Gotta Feeling
2. Queen – We Will Rock You
3. Michael Jackson – Billie Jean
4. Beyoncé – Single Ladies
5. The B-52's – Love Shack
6. Elvis Presley – A Little Less Conversation
7. Whitney Houston – Dance with Somebody
8. David Guetta – Titanium
9. Journey – Don't Stop Believin'
10. Shania Twain – Man I Feel Like A Woman
Top ten songs to listen to when getting in the mood for romance
1. Barry White – You're My First, My Last, My Everything
2. James Blunt – You're Beautiful
3. Marvin Gaye – Sexual Healing
4. Marvin Gaye – Let's Get It On
5. Lionel Richie – Say You, Say Me
6. Etta James – I Just Want to Make Love To You
7. Donna Summer – Love to Love You Baby
8. Tom Jones – You Can Leave Your Hat On
9. Daft Punk – Get Lucky
10. Pharrell feat Snoop Dogg – Beautiful
Top ten songs to listen to while going through a break-up
1. Adele – Someone Like You
2. Elvis – You Were Always on my Mind
3. U2 – With or Without You
4. Bill Withers – Ain't No Sunshine (When's She's Gone)
5. Sinead O'Connor – Nothing Compares 2U
6. Marvin Gaye – Heard It Through the Grapevine
7. Justin Timberlake – Cry Me A River
8. Joy Division – Love Will Tear Us Apart
9. Toni Braxton – Unbreak My Heart
10. Kelly Clarkson – Because of You